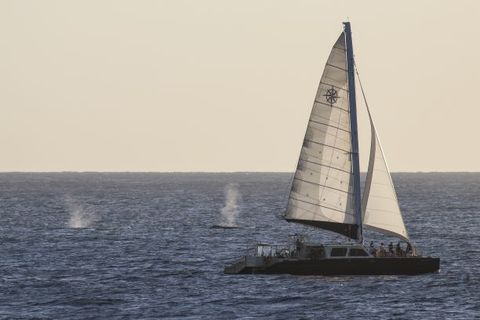 Whale season has come around here!  Since I saw eyewitness news of humpback whales from Captain Andy's in early October, I've been looking forward to the opportunities to go out to the shore for photography.  And finally came a chance!  Yes, a group of whales were there at Makahuena Point.
For me, winter is very exciting season to be able to watch whales but at the same time it's very annoying season because I'm so crazy spending much time for whales out of my busy schedule.   
As you may know, whales are not always swimming on the surface of the ocean but only once in a while come up to the surface to breathe.  Therefore a chance to photograph whales are not often and actually rare especially in the very beginning of the season.  Therefore lots of time and patience are needed in order to take photos of whales and I guess a kind of "love" is also needed to do so.    
In order to express my love for whales, I made a short poem which is a parody of famous waka poem by Ariwara No Narihira.
If, in this world of ours,
All the humpback whales
Never existed,
My heart in the winter,
Must be calm and peaceful….
Actually, original poem is not about whales but Sakura or Cherry blossom which has represented beauty of Japan.  An original poem in Japanese is written as;
世の中にたえて桜のなかりせば
春の心はのどけからまし.
If, in this world                                 (Yono Naka ni)
All the Cherry blossom                    (Taete Sakura no )
Did not existed                                 (Nakariseba)
My heart in the spring                     (Haru no Kokoro wa)    
Must be clam and peaceful            (Nodokekaramashi)
The author is Ariwara no Narihira (825-880) who was a Japanese courtier and outstanding poet in Heian Period.  According to the Tales of Ise, Ariwara no Narihira left this well-known waka poem when he saw beautiful Sakura at Nagisa Palace (currently, Hirakata City in Osaka).  It's about his unusual love toward Sakura. 
Needless to say, spring is supposed to be a peaceful season.  It's an ending of winter and climate is very comfortable to stay.  It's not too cold and not too hot.  And it's a great season of cherry blossom which attracts many people for many days.  People get excited and long for Sakura to bloom at the same time they worry about weather if rain might ruin the blossom.   Then after full blooming, people feel sad about scattering of the flowers. 
Ariwara no Narihira realized  Sakura could make people happy at the same time Sakura could cause people to be sad or worry, stating that people cannot be calm because of Sakura.  
It is true if there were no Sakura in this world, we might find peace in spring and if there were no Kujira (Whales) I might find peace in winter.  But without Sakura, we might be boring.  Without Kujira (Whales), I might be boring…..What is important is non-attachment and a good balanced life far from the attachment. 
For this season, I want to spend time wisely for whales….not too close, not too far….and yet I seek for the better photograph.
Is it possible?
Well, please continue to check my blog.  
My Past Articles about Humpback Whales: