Buddhist Services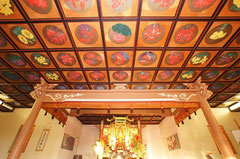 Temple Tour
Temple Tour is held upon your request.  The resident minister will guide you to the historical old temple building (built in 1910)  which is one of the oldest temple structures in Hawaii.  The minister will be very happy to explain culture, history and teaching of Buddhism.  Your reservation in advance is apprecaited.   Please call 1(808)742-6735.  Your donation is also greatly appreciated.
Sunday Service
Sunday Service is held at Koloa Jodo Mission almost every Sunday at 10:30 a.m.  Chanting is done in both Japanese/Chinese with English translation.  Dharma talk is in English.   The minister will be giving a short presentation usinig Kanji Characters to help explain Buddhsim, history, and culture.
Annual Jodo Buddhist Observances
Observing Buddhist services is one of the most important forms of devotion.   When we enter the Temple and face Amida Buddha while reciting the Nembutsu and chanting the sutra, we feel oneness with Amida Buddha.   We feel peace in our minds and gain encouragement and inspiration to live better lives.   Buddhist services provide the opportunity to devote time to the Buddha, refresh our mind and realize our true selves.   It is also a time to meet with the Sangha (members), to share and enjoy the fellowship.  By participating in Buddhist observances we nurture our Buddha nature and become compassionate and better people to serve our family and community.
2015 Schedule

November 3 (Tus.)
HCJM Planning Committee Meeting on Oahu
November 7 (Sat.)
1:00 p.m.
Raikoji Temple group visits at Koloa
November 8 (Sun.)

10:30 a.m.
Sunday Service at
Koloa Jodo Mission
5:00 p.m.
Private Memorial Service at
Kapaa Jodo Mission
November 15 (Sun.)
Ojuya Service at
Kapaa Jodo Mission
12:30 p.m.
Board of Directors' Meeting
3:00 p.m.
Private Memorial Service
December 27 (Sun.)
Mochi Sale at
Kapaa Jodo Mission
2:00 p.m.
Private Memorial Service