Welcome to Koloa Jodo Mission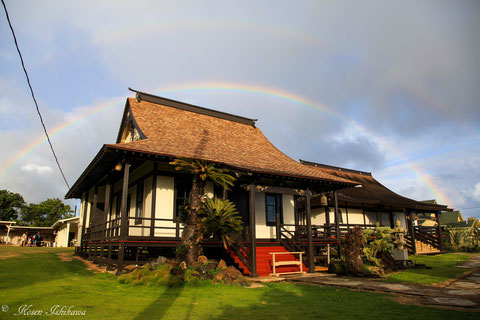 2020 Modified Bon Schedule
Due to the Coronavirus pandemic,  we have changed our planning and schedule as follows.  
1. Bon Dance was cancelled and Bon Service was put off.
2. Bon Service (In-person) with Hatsubon Service will be held on Sunday, July 19th at 10:30 a.m.  There will be no O-Toba and no Toro lantern.   Please let Sensei know deceased names  if you wish to offer prayer. 
         Donation will be accepted. 
         Those who wish to participate in the service,
         please reserve your seats.  Please wear a Face mask and
         keep social distancing.  If you are sick, please stay home.
3.      Virtual Live streaming Bon Service/Dance will be held on
         Sunday, July 19th at 7:00pm.   
         https://youtu.be/nn3i53fR-24 
         (Or You can find under Kosen Ishikawa's YouTube)
4. If you wish to have a private Bon Service or memorial Service, please let Sensei know.
Cancellation of 2020 Hawaii Jodo Shu Tour to Japan
I regret to inform you that we decided to cancel 2020 Jodo Shu Japan Tour in October due to Covid-19.  As you may assume it, there was no application at all by the end of May but in case you paid application fee to Kinetetsu this month, please let me know as soon as possible.  All the deposit should be returned to you with no penalty fee. 
Although interisland flight without 14 days quarantine will resume in June 16, international travel is still uncertain.  In addition, Young Ministers' Association in Japan decided to postpone their event to have fellowship with us at Chionin Temple. Therefore, we cancelled this entire tour at this time and decided to plan another tour after pandemic is over.
Thank you very much for your understanding. I pray for your good health and safety.
Gassho,  
Kosen Ishikawa
P.S.
If quarantine restrictions between Hawaii and Japan are lifted and if you are still interested in going to Japan, please let me know.  As I am expecting to attend Bishops' meeting in Kyoto in October, I can help arrange your trip.
In accordance with the State of Hawaii & the County of Kauai's "Safer-at-home" order, our temple is reopened for our members.
We will restart in-person Special Services with your Kokua to practice social distancing, washing hands often and wearing a face-mask in the future.  We will continue to offer our Virtual Buddhist Services through Youtube.  Please check here.   
Also PDF file of our "Otsutome Book" is now available to download. 
Thank you very much for visiting us.  We pray for your safety and peace as we overcome this crisis of COVID-19 Pandemic.
Mahalo,
Kosen Ishikawa,
Koloa Jodo Mission
In the near future after this COVID-19 Pandemic is over, Sunday service will be open to public.  We welcome visitors in different faith.  Please check our schedule.
For service appointments in the future after this pandemic, please feel free to call (808)742-6735.  Guided temple-tour /Buddhist Wedding Ceremony/Japanese Language Class/Sightseeing/ are also available upon your request. 

Koloa Jodo Mission
3480 Waikomo Road
Koloa, Kauai, Hawaii 96756-0457  
Phone: 1(808)742-6735
For email, please send a message through the Contact.
Resident Minister:
Rev. Kosen Ishikawa
Emai: kosenishikawa@hotmail.com
ようこそカウアイ島コロア浄土院へ。法要・参拝・祈願・七五三(貸衣装有)・結婚式・記念写真撮影・観光案内も致します。日本語でお気軽にお問い合わせ下さい。
Website:  http://www.koloajodo.com/
Flickr:      http://www.flickr.com/photos/kohawaii/
Youtube:  http://www.youtube.com/user/KosenKoloa
Facebook: https://www.facebook.com/kosen.ishikawa