Welcome to Koloa Jodo Mission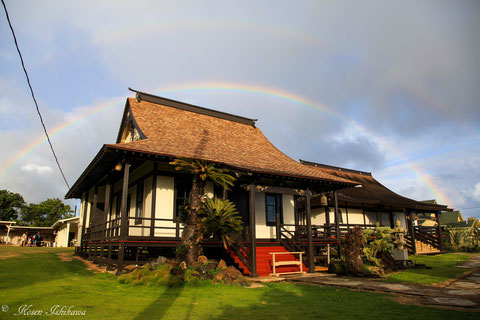 In accordance with the State of Hawaii & the County of Kauai's "Stay-at-home" order, our temple is temporarily closed until further notice.
However, we continue to offer our Buddhist Service through Youtube.  Please check here.   Also PDF file of our "Otsutome Book" is now available to download. 
Thank you very much for visiting us.  We pray for your safety and peace as we overcome this crisis of COVID-19 Pandemic.
Mahalo,
Kosen Ishikawa,
Koloa Jodo Mission
In the near future after this COVID-19 Pandemic is over, Sunday service will be open to public.  We welcome visitors in different faith.  Please check our schedule.
For service appointments in the future after this pandemic, please feel free to call (808)742-6735.  Guided temple-tour /Buddhist Wedding Ceremony/Japanese Language Class/Sightseeing/ are also available upon your request. 

Koloa Jodo Mission
3480 Waikomo Road
Koloa, Kauai, Hawaii 96756-0457  
Phone: 1(808)742-6735
For email, please send a message through the Contact.
Resident Minister:
Rev. Kosen Ishikawa
Emai: kosenishikawa@hotmail.com
ようこそカウアイ島コロア浄土院へ。法要・参拝・祈願・七五三(貸衣装有)・結婚式・記念写真撮影・観光案内も致します。日本語でお気軽にお問い合わせ下さい。
Website:  http://www.koloajodo.com/
Flickr:      http://www.flickr.com/photos/kohawaii/
Youtube:  http://www.youtube.com/user/KosenKoloa
Facebook: https://www.facebook.com/kosen.ishikawa