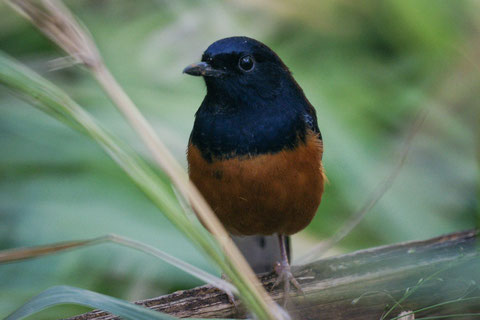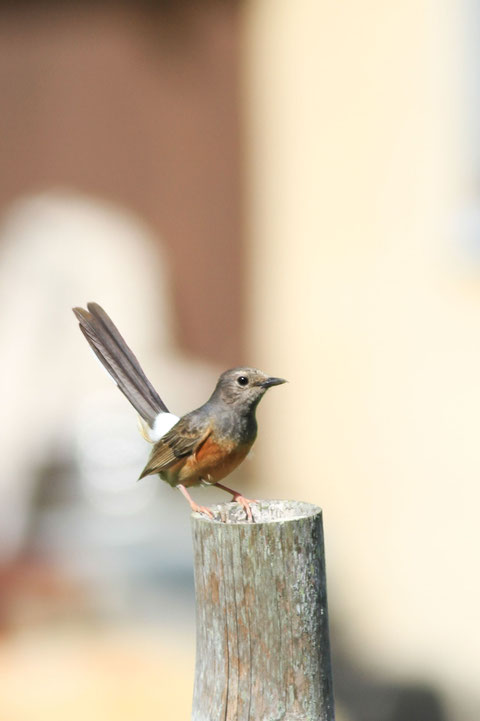 White-rumped Shama is known as one of the best songbirds in Hawaii. The voice is clear and beautiful especially loud around both sunrise and sunset time. It was introduced to Hawai'I from Malaysia in 1931 and again in 1940 and established on Kaua'I, Oahu, Molokai and possibly on Maui, according to "A photographic Guide to the Birds of Hawaii."
This bird was named after its white rump while Japanese name, "Akahara Shikicho" was named after its brown part of the belly. It's very interesting to know bird's name in different languages since most birds were named after their characteristics according to their viewpoint of their culture. Japanese name, Akahara-shikicho can be divided into five words; Aka(Red)Hara(Belly) Shi(Four) Ki(Season) Cho(Bird).
I think there are quite numbers of white-rumped Shama in Koloa since I often see both male and female together. Some years ago, I happened to find its eggs on the unused bucket and enjoyed their growing from eggs to babies.
One time, a young white-rumped shama came inside our temple and I had very hard time to get it out. Although the temple door was wide open, but for the bird, open part must have seen closed because it was against the light. It took more than one hour for the bird to go out but it gave me a good chance to take photos of juvenile!