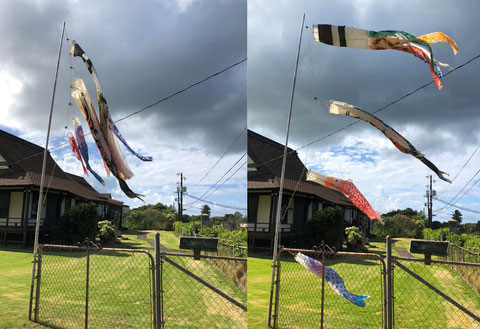 What a good idea! As soon as I saws the news of Koinobori with social distancing in Japan, I couldn't help setting up carp streamers again with social distancing here!
However when I showed this picture to my wife, she told me it was too much of a good thing. She continued, "Our human beings and maybe animals are necessary to do this. But isn't it necessary for Koinobiri to practice social distancing? Let at least Koinobori do what we cannot do! Let Koi carps swim stick together!"
I deeply appreciate my wife who always give me her honest opinions. Her opinion is sometimes too honest, though.
I definitely thought Koinobori with social distancing was very good however what she said made me realize my self-centered ego which tries to apply "good idea" to all occasions….
At the same time, I realize there should be many opinions and among many opinions, I need to practice Buddhism to choose to do what is right. One of the core teachings of Buddhism is balance. Too much can be as bad as too little. The person who can tell us "too much" or "too little" is precious.
Another weekend is already coming again. Mother's Day is just around the corner. I wish you and your family to enjoy safe Mother's Day weekend.
I just let you know another LIVE Jodo Buddhist Sunday Service will be available at my YouTube Channel on Mother's Day at 10:30a.m.