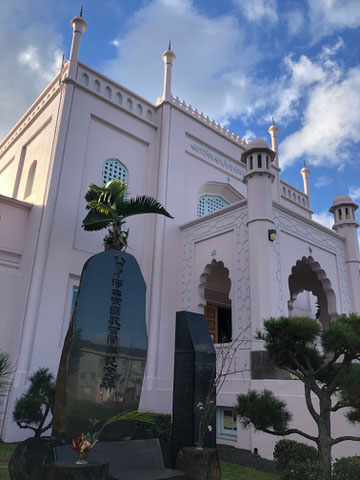 Today March 25th is the day when Reverend Taijo Matsuo who was 26yrs old from Nagano, arrived at Honolulu Harbor in 1894. He was one of the first two Jodo Shu ministers who started missionary in Hawaii in the 126 years of history of Hawaii Jodo Mission.
According to the Centennial History of Hawaii Jodo Shu, in November 1894, Rev. Matsuo moved to Kauai and visited Japanese workers at 9 plantation camps and had opportunities to teach Buddhist teachings and practice of Nenbutsu. Rev. Matsuo was planning to build a temple in Kapaa. However in July, 1898, Rev. Matsuo became severely ill due to malnutrition and overwork.
With the hopes of returning to Kapaa after his regaining, Rev. Matsuo left Honolulu harbor on August 3rd and arrived at Yokohama on August 19. It was three weeks after his coming back to Japan, he passed away on September 13, 1898 at age of 31.
If Rev. Matsuo were healthy, the 2nd Jodo Shu temple in Hawaii must have been built on Kauai.  But the history tells us it took another 12 years to have a Jodo Shu temple here on Kauai.
Today on this special day, with much gratitude and sympathy, I observe a memorial service for the past ministers and members who dedicated themselves to Jodo shu temples from Koloa Jodo Mission.                                                        Namu Amida Butsu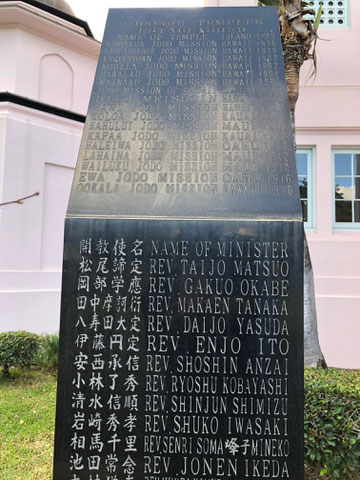 All names of Jodo Shu temples established in Hawaii are listed.  Also all names of ministers and their wives who served temples in Hawaii from 1894 to 1994 are engraved.
1. Hamakua Jodo Mission  (Hawaii) 1896
2. Laupahoehoe Jodo Mission (Hawaii)   1899 -1999  (closed)
3. Kurtistown Jodo Mission (Hawaii) 1902
4. Kohala Jodo Mission (Hawaii) 1902
5. Hakalau Jodo Mission (Hawaii)1904
6. Wainaku Jodo Mission (Hawaii) 1905- 2005 (closed)
7. Jodo Mission of Hawaii (Oahu) 1907
8. Hilo Meishoin (Hawaii)1908 
9. Hawi Jodo Mission (Hawaii) 1909
10. Koloa Jodo Mission (Kauai) 1910
11. Puunene Jodo Mission (Maui )1910
currently Kahului Jodo Mission
12. Kapaa Jodo Mission (Kauai) 1912
13. Haleiwa Jodo Mission (Oahu ) 1912
14. Lahaina Jodo Mission (Maui )1912
15. Wailuku Jodo Mission (Maui) 1914
16. Ewa Jodo Mission (Oahu) 1916 -1972 (closed)
Ookala Jodo Mission (Hawaii) 1920 -1941 (closed)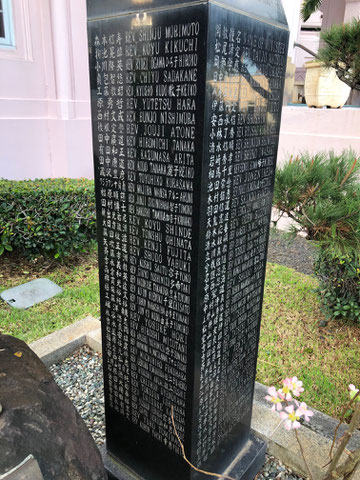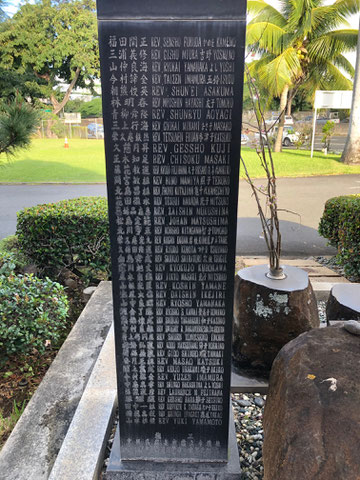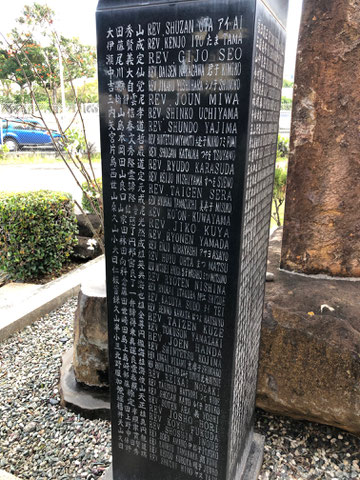 Here on this monument, there are 161 ministers names listed.  My assignment was 3 years after this Centennial Celebration and I think I'm the 163rd or 164th assigned minister in the history of Hawaii Jodo Shu.