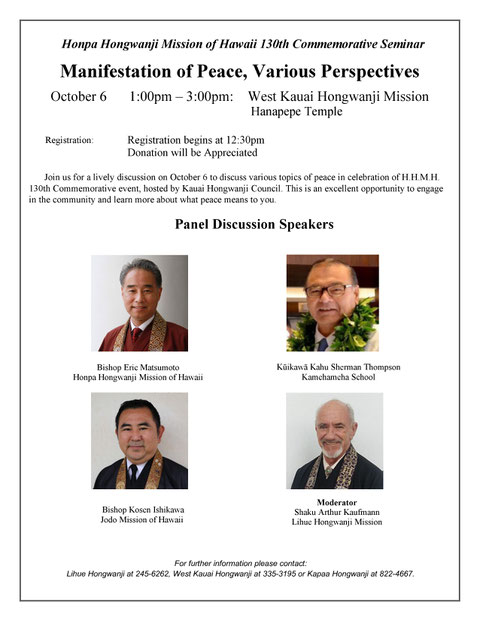 Happy 130th Anniversary to all the members and ministers of the Honpa Hongwanji Mission of Hawaii!
In commemoration of this anniversary, Kauai Hongwanji Council will sponsor a seminar, titled "Manifestation of Peace, Various Perspectives" at West Kauai Hongwanji Hanapepe Temple on Sunday, October 6 from 1:00pm.  
Mahalo nui loa to Senseis(Rev. Hojo, Rev.Majima & Rev. Shaku Kaufumann) of Kauai Hongwanji Council for inviting me as a Panel Discussion Speaker.  It will be my greatest pleasure to share peaceful teaching of Jodoshu and my personal thoughts on peace.  
This will be a public seminar and registration starts at 12:30pm tomorrow on Sunday, October 6.  I hope to see you there!
*I've heard a moderator of the seminar will be Rev. Majima because Rev. Kaufumann's health condition.  I pray for his quick recovery and get-well.