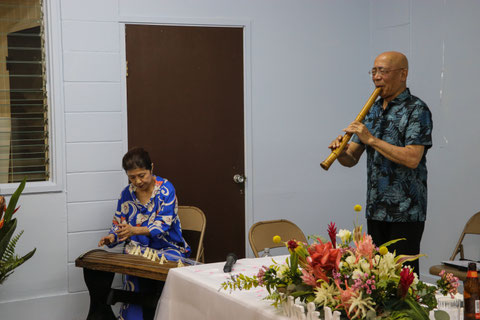 Alooooha!
I'm sorry I've been so lazy about updating my blog but I've just kept working and working till today and realized it's already Bon Dance tomorrow on Friday, June 7!  On behalf of Koloa Jodo Mission, I'd like to express my sincerest Aloha and Mahalo to you!
On Friday, June 7 at 7:00pm, we'll have a Shakuhachi master, Rev. Shikuu Yano of Aichi Prefrecture, Japan and four Koto players to perform some songs before the opening prayer.  Then they will perform some songs with a surprise dance during the intermission.
On Saturday, June 8 around 8:45pm, we'll have Taiko Kauai during our intermission.  Although we don't have enough parking but we do appreciate your participation in our festival.
The following will be the schedule.
Friday, June 7
6:00 pm   Food booth opens
7:00 pm   performance by Koto playe, Satsuki Urasawa and with her students.
8:45 pm    
9:00 pm    Intermission 
10:30 pm  Dance ends
Saturday, June 8
6:00 pm   Food booth opens
7:30 pm   Opening prayer
8:45 pm    
9:00 pm    Intermission / Taiko Kauai
10:30 pm  Dance ends
Once again, thank you very much for your support and hope to see you here at Koloa Jodo Mission.
P.S.
Please do not hesitate to follow my facebook or Twitter since I often update FB.