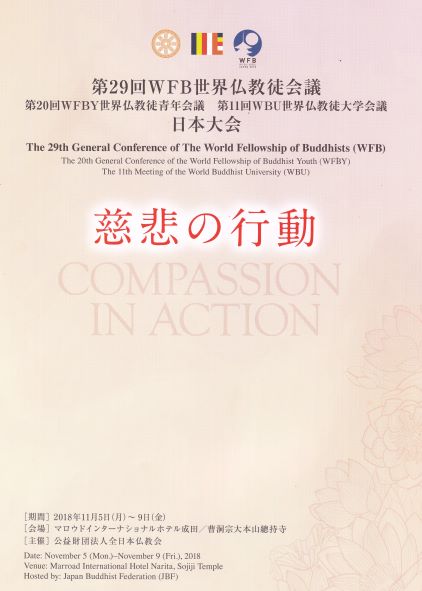 It was truly an honor and blessing that I was able to participate in the 29th General Conference of the World Fellowship of Buddhists (WFB) in Japan from November 6th to November 9th.  In the history of WFB, this was the 4th time for Japan to host the general conference and theme was "Compassion in action."
The conference was the biggest meeting I've ever attended and over 1,000 people got together for the prayer ceremony for World Peace at Sojiji Temple which is one of the two head temples of Soto Zen School.  Officers from WFB, Chief priests and VIPs from 59 major Buddhist schools in Japan, the most Reverends, Venerables, Professors from nearly 200 centers in 41 countries, politicians, members of the National Diet and some business representatives attended the ceremony.
The ceremony was the most interesting and impressive service I've never seen before and I regretted I didn't bring a camera and a tripod with me.  But I did my best to take photos and a few short videos with my new phone and hope to share them with you in the near future.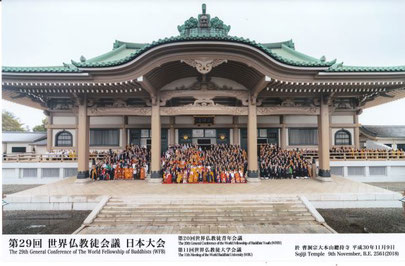 This is an official commemorative photo of the 29th General Conference of the World Fellowship of Buddhists, the World Fellowship of Buddhists Youth, and the World Buddhist University.  Can you find me?(LOL)  Once again, I'm very lucky I was there in the picture but there were tremendously many people working behind the scenes. 
This is a photo when a group photo was about to be taken.  As you see, many priests were not included in the group photo.  The staffs wearing yellow jackets are the ones who can speak English and the staffs in white jackets are volunteers from the Japan Buddhist Federation who supported this entire conference in Japan.  Some more people, maybe a few more hundreds, were working at different sites to welcome us. 
Kudos goes to all volunteers and priests who hosted the conference.   Many of them may not be appeared in the photos but I'm very fortunate to know they were unsung heroes of the conference.
Last but not least, I'd like to thank our Bishop Rev. Koji Jeff Ezaki who gave me a chance to attend this conference.  Also I cannot thank you enough...to Rev. Shodo Kobayashi and Rev. Yoshiharu Tomatsu who financially supported my participation.
LINK:
My past article about Sojiji Temple