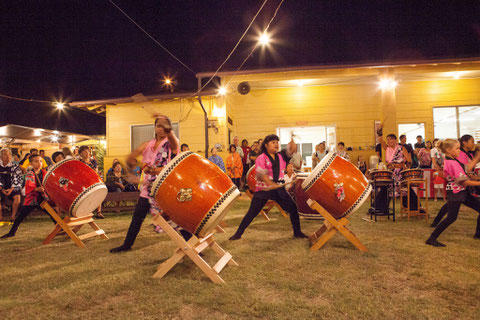 Can you believe it?   It's already Bon Dance Season!!!
This year, the first Bon Dance of nine bon dances hosted by the Kauai Buddhist council will launch at Kapaa Jodo Mission on this Friday and Saturday, June 8 & 9 from 7:30 p.m to 10:30 p.m.  
Bon Dance is a part of Buddhist Festival known as "O-bon" which honors the spirits of ancestors who are believed to come back to this world during summer time.  In order to welcome the spirits, families get together to have a service, pray and dance together with a big feast.  
This year, Kauai Buddhist council temples celebrate and honor the 150th Anniversary of the first arrival of the group of Japanese Immigrants to Hawaii since 1868.  Because 1868 was called "Meiji Gannen" meaning "The First Year of the Meiji Era", those who reached Hawaii in 1868 have been called "Gannen-mono" meaning "First Year Folks."   Special prayer will be offered at each temple and some temples will have special features celebrating "Gannenmono."
At the first bon dance at Kapaa Jodo Mission,  there will be Taiko Drumming Performance by Sensei Aki Conquest and Joyful Noise at the intermission on Friday, June 8 and Okinawan Eisa Dance will be performed on Saturday, June 9.   
Local food such as Kauai's unique "Flying Saucer" will be available from 6:00 p.m.   All are invited and welcome.   For more information, please call 635-8530.
2018 Dates

Temple

Dancing

Services

Memo

June 8 & 9

Kapaa Jodo Mission

4524 Hauaala Road Kapaa, HI 96746  Ph: 808-822-4319

7:30 p.m. – 10:30 p.m.

6:30 pm on June 8 & 9

 

Hatsubon

Service:

June 3

@10:30 am

June 15 & 16

West Kauai Hongwanji (Hanapepe) 1-3860 Kaumualii Highway Hanapepe, HI 96716 Ph: 808-335-3195

7:30 p.m. – 10:30 p.m.

6:00 pm on June 15 (Hatsubon)

Bon Service Sunday, August 12 @9:00 am

 

June 22 & 23

Lihue Hongwanji Mission

3-3530 Kuhio Highway Lihue, HI 96766 Ph: 808-245-6262

7:30 p.m. – 10:30 p.m.

6:30 p. m. on June 22 & 23

Hatsubon Service:

June 17@9:00am

June 29 & 30

Waimea Shingon Mission 3770 Pule Road Waimea, HI 96766 Ph: 808-338-1854

7:30 p.m. – 10:30 p.m.

6:30 p.m. on

June 29 & 30

(*Hatsubon on Friday)

 

July 6 & 7

Koloa Jodo Mission 3480 Waikomo Road Koloa, HI 96756 Ph: 808-742-6735

7:30 p.m. – 10:30 p.m.

 

Bon Service

(Hatsubon)

Sunday, July 1st @10:30 am

July 13 & 14

West Kauai Hongwanji (Waimea) 4675 Menehune Road Waimea, HI 96796

Ph: 808-335-3195

7:30 p.m. – 10:30 p.m.

6:00pm on July 13 (Hatsubon)

Bon Service

Sunday, August 12 at 9:00 am

 

July 20 & 21

Kapaa Hongwanji Mission 4-1170 Kuhio Highway Kapaa, HI 96746 Ph: 808-822-4667

7:30 p.m. – 10:30 p.m.

6:00 p.m. on Friday, July 20

(Hatsubon)

Sunday, July 15     9:00 am, Family Bon Service

 

July 27 & 28

Waimea Higashi Hongwanji 9554 Kaumualii Highway Waimea, HI 96796

Ph: 808-338-1847

7:30 p.m. – 10:30 p.m.

6:30 p.m. on

July 27 & 28

(*Hatsubon on Friday)

 

August 3 & 4

Kauai Soto Zen Temple 1-3500 Kaumualii Highway Hanapepe, HI 96716

Ph: 808-245-2841, 808-346-4650

7:30 p.m. – 10:30 p.m.

6:00 pm on Aug 3 & 4

Memorial services