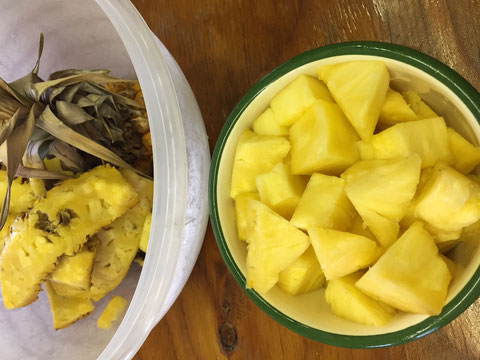 "Sweetest Pineapple" article was originally written for the Kapaa Jodo Mission Bulletin last November.  Then I received a comment via internet.  I had no idea who sent me an email because there was no name on it.  But as soon as I read it, at least I knew the person was very knowledgeable both Pineapple and Kauai.  Let me share the following email message I received from that person.  
"I read and enjoyed your message about the pineapple.  Most people will remember Kapaa the pineapple town.  Kapaa and Up canary helped us in a big way.  We earned money to go to school, etc.  The best pineapple to me was always from the third crop.  The first crop was large and ok.  The second crop was smaller and usually sweeter.  The third crop was small and sweetest and used for juice.   However, today it's different because of low acid pineapple and white pineapple.  Frankie's Nursery has the best white pineapple.  Since pineapple doesn't ripen only ferments after it is picked it is best to look at the stem and see if is freshly picked.  Secondly smell the area.   You can smell the sugar or fermentation. Frankie's pineapple is called meli kalima (honey cream).  The Brix is 28. Maui gold pineapple is about 18 and honey is 32.  Aloha."
It was so interesting that I naturally asked if I could share this email with our members.  At the same time, I asked the name.  Then he replied to me in no time.   It was Mr. Herbert Nishida whom I knew only name through donations for O-Toba prayer.
"My name is Herbert Nishida and you can share my novice information. Very few people will recognize my name.  I left Kapaa in 1958 but like most people I keep interest in my hometown. Now I'm a visitor. The real experts in selecting the sweetest pineapple are your members who will remain silent until asked a direct question.  Perhaps your sweetest pineapple article will create a new common bond and so on. ...how do you pick out the best papaya. ...again the stem of the mostly green firm fruit must be fresh not old. ...smell the mostly green fruit and you should smell sugar.  If you don't select another one.  Be sure the is not yellow because it will be smashed by the people's hands. Unlike pineapple papaya will ripen.  People may laugh when you ask them to smell a papaya that's green.  That's okay because their method of selecting may be better.   Aloha"
A big Mahalo to Mr. Nishida who allowed me to share his interesting comments on the pineapple.  Especially, I agreed...the real experts will remain silent until asked a direct question.   This reminded me of the Lao Tsu's famous saying, "Those who know do not speak.   Those who speak do not know."   And now I had an idea to add his saying, "Those who answer know!"   It is my hope that I get more opportunities to hear from our members and friends about your experiences.