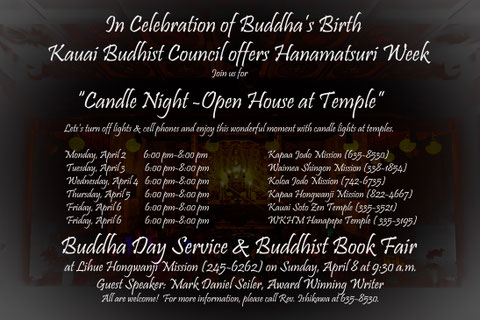 In Japan, April 8 has been known as the day when Siddhartha Gautama was born in Lumbini, Nepal about 2600 years ago.  Siddhartha was a prince of the kingdom of Kapilavastu (Northern India).  He had all the material wealth that anyone could wish for but when he was 29 years old, he was truly shocked to know people in the world were suffering from illness, poverty, and various dissatisfaction.  He then renounced all these things to go out into the world to seek a way of salvation for all the people.  After six years of hard trainings and deep meditation, he became enlightened under the Bodhi tree when he was 35 years old.  Siddhartha was then called "Buddha" which literally means "Awakened One."   For the sake of sharing the way to happiness, Buddha traveled to preach his teachings for nearly 45 years.  His teachings were gradually transmitted from people to people, countries to countries and from generations to generations which have formed what we call "Buddhism" today.
The tradition to celebrate Buddha's Birthday in April 8 has been brought to Hawaii with Japanese Immigrants and April 8 was officially recognized as a Buddha Day by the State Legislature of 1963. Since Buddha's birthplace was a flower garden in Lumbini and also April in Japan is a beautiful season of Sakura flowers, Buddha's Birthday is also called "Hanamatsuri" meaning "Flower(Hana) Festival(Matsuri)"   
In celebration of Hanamatsuri this year, Kauai Buddhist Council will offer for a full week of celebrations festivities.  From April 2nd to April 6th, "Candle Night-open house" at temple will be held at the Buddhist temples.  This open house is to offer extra time and place for prayer and meditation with candle lights to anyone, both residents and visitors of Kauai.   There will be time for meditation, prayer, Q & A, and talk-stories with Sensei.   Each temple will welcome you in a different way.
On Sunday, April 8, 2018, Buddha Day Service and Buddhist Book Fair will be observed at Lihue Hongwanji Mission from 9:30 a.m. to 12:00 noon.   The guest speaker will be Mr. Mark Daniel Seiler whose first novel, "Sighing Woman Tea" won at the Pacific Rim Book Festival 2015 and his second novel "River's Child" was recently awarded the Landmark Prize for fiction."  He is a poet, musician, master carpenter, and currently serving as a board member of Koloa Jodo Mission, Kauai Buddhist Council, and Lawai International Center.
Kauai Buddhist council which consists of Kapaa Jodo Mission, Kapaa Hongwanji Mission, Kauai Dharma Center, Lihue Hongwanji Mission, Koloa Jodo Mission, Kauai Soto Zen Temple Zenshuji, Waimea Shingon Mission, Waimea Higashi Hongwanji Mission and West Kauai Hongwanji Mission (WKHM Hanapepe & Waimea Temple) will proudly display their best selections of the Buddhist books during this Buddhist Book Fair.   At the same time, we will have some books both for sale and for free available to the participants.  Temples will bring and present some free "old new book" which was supposed to be new but never read by members for many years.
There will be refreshments and lucky number follow the service.  All are invited and welcome.  For more information, please call Rev. Kosen Ishikawa at 635-8530.  Hanamasturi week Schedule as follows;
Monday, April 2                6:00 pm-8:00 pm  
Candle Night          Kapaa Jodo Mission (635-8530)
Tuesday, April 3                 6:00 pm-8:00 pm  
Candle Night           Waimea Shingon Mission (338-1854)  Wednesday, April 4          6:00 pm-8:00 pm  
Candle Night           Koloa Jodo Mission (742-6735)
Thursday, April 5                6:00 pm-8:00 pm  
Candle Night           Kapaa Hongwanji Mission (822-4667)
Friday, April 6                     6:00 pm-8:00 pm  
Candle Night           Kauai Soto Zen Temple (335-3521)
Friday, April 6                     6:00 pm-8:00 pm  
Candle Night           WKHM Hanapepe Temple (335-3195)               
  (*Hanapepe Art Night is held on Fridays.  So it's nice to visit both temples on the same day.)
Sunday, April 8   9:30 am -12:00 noon  Buddha Day Service & Buddhist Book Fair at Lihue Hongwanji Mission.