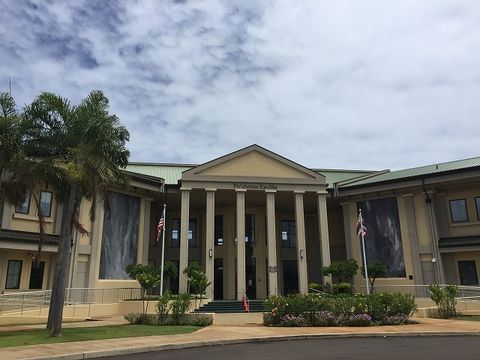 What a peremptory building!  This was my first impression on the Local Judiciary Court Building which I visited recently. Then I noticed a beauty of the symmetry of the building which must be an expression of "Fair" or "Well-balanced" of the law.   Although design of the court buildings are all different, the impression of "well-balanced" of the building should be same to the Court buildings in Japan.
Anyway, I went there in order to obtain an abstract of traffic record for my part-time employer I'd probably work from next month. I'm very excited about my new addition of the job to guide more Japanese tourists.
Needless to say, economy of the island depends on the tourism pretty much. The more tourists we have here on the island, the better economy we get....although the traffic will be surely worse.
After some experiences of having Japanese guests as a tour guide, I regard a role of tour guide so important.  A good guide could have them spend money naturally on the island and could increase more repeaters of tourists which will cause island's economy better. 
On the other hands, if a guide gave them a bad impression, they don't want to come back here again.  Also if customers are truly satisfied with the sightseeing tour on Kauai, they may not be interested in coming back here.
So what a guide need to do is, I think, to give both satisfaction and dissatisfaction that they couldn't visit all attractive places. Of course, a guide is not necessary to intend to give dissatisfaction to the guests. It all depend on the guide...how much he/she know the island and its attractive places.
It would be a challenge for me to work for Kauai Outdoor Adventures & Tours Company which has "experienced tourists" customers who visited here before from Japan.  My very first job gonna be "snorkeling at Na Pali Coast!"   Once again, I'm very excited about this job but at the same time, I'm pretty nervous since I'm not a good swimmer!