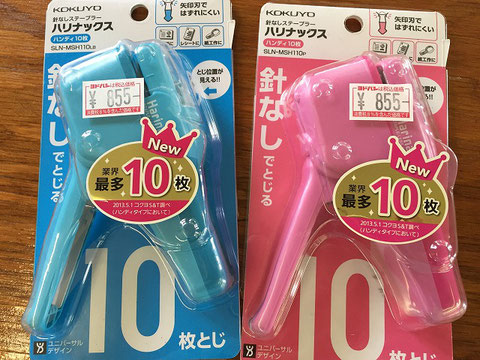 While staying in Japan, I saw many cool products I had never seen in Hawaii. One of them was a stapleless stapler called "Harinacs."  
I actually heard this product from a small request from my friend here.  She texted me that she wanted me to get a stapleless stapler in Japan.  When I heard it, I couldn't imagined it but thought it was a great invention!  So I ordered more than enough staplers by Amazon Japan instead of going to the store to look for the product.  I wished I could give this to more friends.
However, at the last minutes, I realized that my credit card company stopped my card because of the suspicious purchasing!  They thought it was the last thing for the Hawaii resident to buy products through Amazon Japan in Japan.  Then they stopped my card. I knew it at the very last minutes when I was about to leave my hometown for Tokyo.
Therefore, fortunately or unfortunately, I needed to go to the store to get it.  The reason why I wrote "fortunately" was because I recalled that my wife already bought this product when I saw it at the store.  Good thing I remembered!!!  I'm pretty sure I would be scolded if I bought too many of this!   I completely forgot this because  we didn't like this product and didn't use much.   It was true without any staples, it can bundle some paper.  It is really amazing.  However we didn't like it made a hole on the paper.
Anyway, let me show you how it works.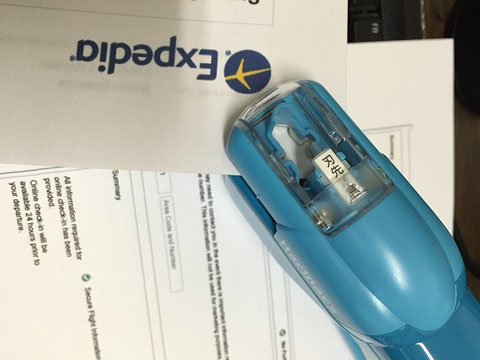 Usage is exactly same as a regular stapler.  Just place the stapler on the paper to stick together, and then grab and press the holders. That's it.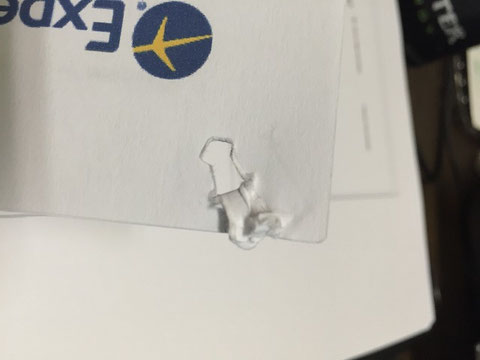 Then this stapler made a hole and with the paper of the hole, paper can stick together.
Once again, this is a great invention and we don't need any staplers ever!  However, we need to understand the reason why this was invented in Japan.
As you may know, Japan is one of the most strict countries about separating rubbish for recycling.  At hotel as a guest, you can throw away anything in the room but did you know hotel workers need to separate your rubbish after you leave?  
In Japan, rubbish are categorized as at least 7 kinds and the dates when they pick up rubbish are all set.   They are,
1. Rubbish that can be burned.
2. Kitchen Waste that can be a compost.
3. Rubbish that cannot be burned.
4. Bottle/ Bottle lid/ Can/ Glass
5. Newspaper/ Magazine/ paper
6. Hazard Waste such as Lighter, 
7. Plastic rubbish
This means you cannot throw away anything anytime.  Before taking rubbish out of the house, you need to separate it and keep it for certain time and then take them to the pick-up place.  In case you mixed them together and took them to the place, they will reject your rubbish!  Very strict!
So in Japan, you need to separate a staple and paper. Paper is categorized as recycled material and staples are for the rubbish that cannot be burned.  They pick them up on the different dates.  It sounds so annoying!  
But because of this feeling of annoying and necessity, somebody invented a stapleless staple!!!  This is just like a famous saying, "Necessity is mother of invention."
Fortunately or unfortunately, after coming back to Hawaii, I feel..... what a paradise that I don't need to separate rubbish!  This is really great for us but how about for Earth?  This made me think seriously about human and nature.  I'd better spend more energy to do recycling!