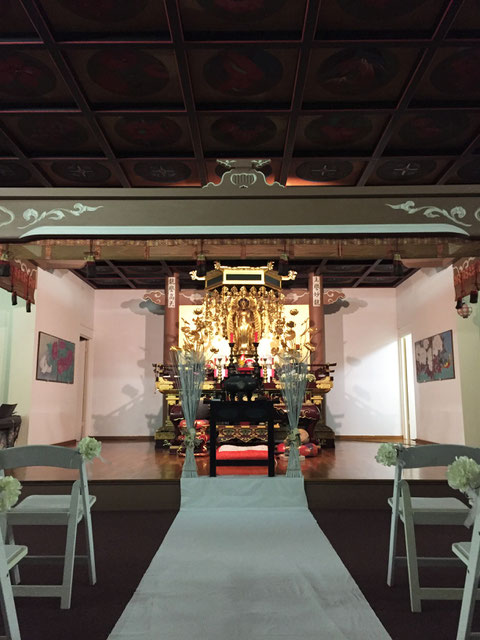 I've been extremely busy for the past week since I started preparation for our O-bon at Koloa and a wedding ceremony for the young couple from Japan. 
At first, a bride left everything about planning to me, so I didn't make any special preparation.  I was just thinking to officiate the ceremony nicely.   However, my wife took my position of wedding planner.....then I became extra busy.....to follow my wife's order to do this and that.
Chairs have to be white?  White chairs don't look clean.  We need white wedding aisle runners?   This planner is so meticulous.   I had to go to Kapaa Jodo Mission to borrow 21 chairs...while doing some other jobs simultaneously.   Then I spent several hours to find white aisle runners.
Absolutely no time for rest except eating and facebooking. (Yes, I do more facebook for which I write more nowadays.)  This was like marathon which consists of 100meter dash so many times.  But thanks to this planner many jobs were completed.  Getting to be nicer place for the wedding which will be held tomorrow.
By the way, wedding aisle runner is called "Virgin road" in Japan.  Yes, virgin road is one of the interesting "Wasei Eigo" which Japanese created by combining English words.  
For me, this white clothes look like white path of the nenbutsu faith.    I think I should explain...this is not a virgin road but a white path.  Being led by Amida Buddha's white path, the couple is going to be married in front of the Buddha.