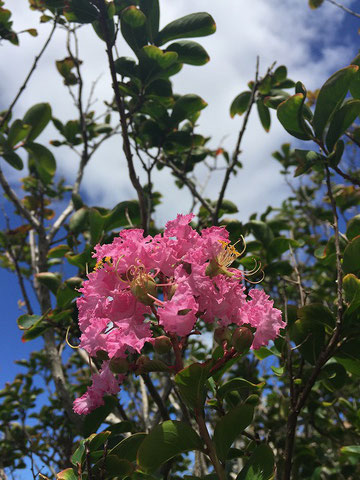 Sarusuberi Flower bloomed today and we had a Shodo-Class with a honeymooner from Minnesota and new friends from Lihue.
I guess my website is getting popular!? since most visitors come here through my website or lonelyplanet website.
Last week, there were some visitors from China, Vietnam, Canada and Oklahoma. I think I should take photos of our guests from now on.....so that I won't forget them!!!  Anyway, thank you very much for coming to our temple!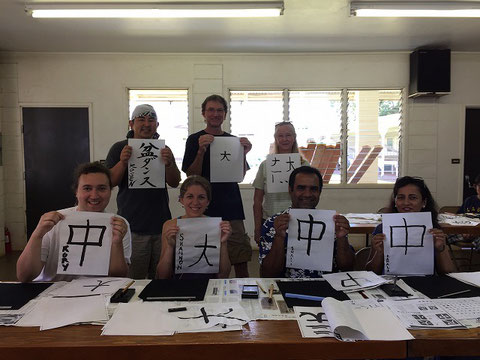 I started this Shodo Class this year because I regard this is a wonderful way of practice Buddhism to learn middle way(well-balance), perseverance(practice after practice), and meditation (concentration.)
Well.... I'm not a Calligrapher but one of the students of my wife!!!  However, I can share some knowledge of Kanji and hidden wisdom through learning Kanji.   Although I prefer to a smaller class but I should like to welcome some more students in the future.  If you are interested in Japanese Shodo, please feel free to contact me!!!  Five more seats available.
Today, we learned characters of "big" "Middle" and "Small" and I hope everybody enjoyed shodo just like I did!!!   The characters I wrote was "Bon Dance!" and right after class, I uploaded a video of the first Bon Dance of this year on Kauai as linked below.
Now I'm working on the video of "Shiawase Samba" with English translation!!!    For those who are interested in more Bon Dance songs, please check my blog and YouTube channel!
Also this past blog post might be interesting to know more about the Sarusuberi (a pink flower.)