Religious organizations and people seem to like using a word like "Unselfish."   I wonder have you ever received a letter to say, "Thank you for unselfishly sharing your time." or "Thank you for your unselfish dedication" and so on?   In fact, I used to use this word a lot in the past.
I think this is because we all value the people who are unselfish and "being unselfish" is one of the highest virtues and best praising word.  And of course, Buddhism seeks for "non-self" which is the way to enlightenment.   On the other hand, "being selfish" is the worst thing and nobody like people who are selfish.  So the usage of the word "unselfishness" naturally encourage all of us to abandon "selfishness."
However, a few years ago, I realized people here use this word of "unselfish" as a meaning of "sacrifice." 
For example, suppose,  you gave a monetary gift and donated time to help Bon Dance at Koloa Jodo Mission.  
Generally, these deeds are considered to be "unselfish."  But I think......what "unselfish" in this context means  is the fact you abandon your selfishness to use money for yourself.  Also you abandon your another choice to spend time for your own leisure.  In other words,  this "unselfishness" indicates "you sacrificed your time and your money to use for yourself, but you used them for others.   I think that's the meaning of "unselfish."
But we need to think why we make donation to the specific organization?  There are many Buddhist temples and much more Christian Churches here.  Also there are many charitable organizations.  If our donation is really "unselfish", we cannot choose organizations and we don't care whether it is unselfish or not.  But what we use "unselfishness" is actually we intend to be unselfish.  Therefore as long as we have an intention,  it should be a part of "selfish"
Yes, a correct expression about this unselfish is....unselfish is one of the "selfishness."   This means it's ok to have a selfishness and we cannot deny our selfishness.   No matter how good things we do, we are selfish to choose what we should do.   And we can be selfish to seek for "unselfishness."  
So what I really want to say here is, again, we don't need to deny our "selfishness."  Rather we need to use our "selfishness" to seek and do for goodness for our society and humanity.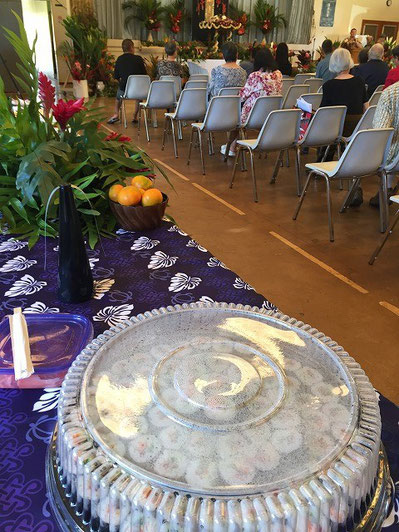 For example, this was my recent donation of Sushi to the Kauai Buddhist Council's Hanamatsuri at Kauai Soto Zen Temple.  The reason of donation?  is, I think, because I'm selfish that I want to be a good person.  Yes, I admit I'm selfish but I want to use my selfishness for others.  I just want to provide good treats to people, especially those who are coming to the service!  In the near future, I think I can extend my selfishness to bring Sushi to the care homes, since I'm now free of my tax preparation!!!!