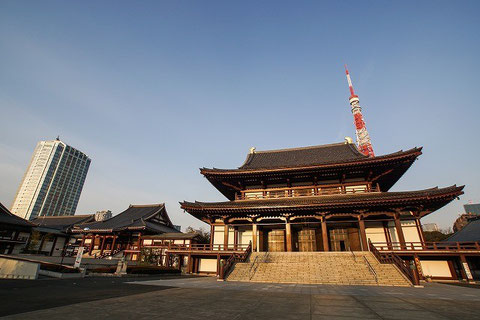 While staying in Tokyo, I visited Zojoji Temple two times.  Of course, Zojoji Temple is one of our Jodo Shu Head Temples (Daihonzan) and in the same temple property, there is Jodoshu Headquarters Tokyo Office where I participated in the conference.   Surrounded by the tall buildings including Tokyo Tower, Zojoji Temple is like oasis in the metropolis of Tokyo.
Zojoji temple was founded by Yuyo Shoso, known as 8th patriach of Jodoshu in 1393.  His master, Shogei established current ordination program "Goju Soden."   Both Shogei and Shoso laid the foundation of Zojoji Temple, receiving support and sponsorship from governors of the Kanto area.
In 1590, Tokugawa Ieyasu was forced to move to Kanto by Toyotomi Hideyoshi.  Ieyasu gained more lands but had to move far from Kyoto which was capital city in Japan for a long time.  As he needed to develop and expand a Edo Castle,  later, Tokugawa Ieyasu had the temple moved, first to Hibiya, then in 1598 to its present location.
According to the history of Zojoji, after the start of the Edo Period when the Tokugawa shogunate ruled Japan, Zojoji became the family temple of the Tokugawa family and an unparalleled grand cathedral was built.
Zojoji also served as an administrative center to govern the religious studies and activities of Jodo shu. In those days, its precincts covered an area of 826,000 square meters which also contained 48 smaller attached temples and about 150 grammar schools. Moreover, as many as 3,000 priests and novices always resided here as students.
Unfortunately, first, its gorgeous main cathedral was burned as a result of anti-Buddhist movement.  Then rest of buildings were also burned down by air raids during World War II.  Therefore most structures in Zojoji temple today are new buildings after the war.  However,
magnificent buildings of the temple could easily take visitors' breath away.  Standing in front of Amida Buddha in the main cathedral,  I regained my pride to belong to Jodoshu which had such an amazing temple.
If you will stay in Tokyo, I would like to recommend you to visit both Zojoji and Tokyo Tower together since they are so close within 5-10 minutes-walk.
Highlight of visitation is as follows;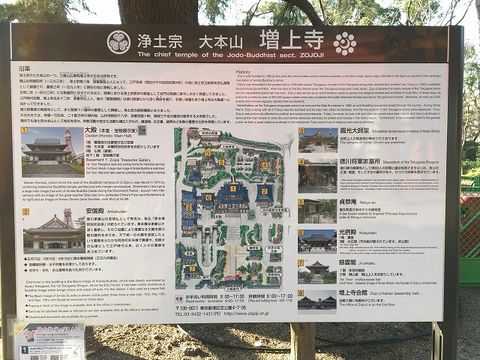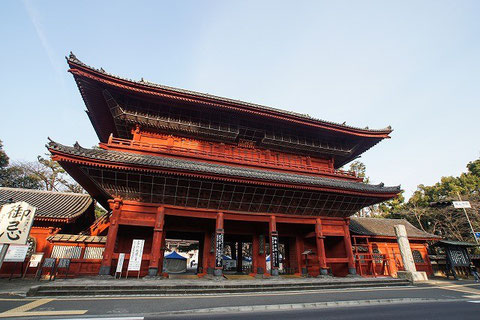 Main Temple Gate called "San-mon" was built in 1622.  It is the oldest building which survived from air raids during war.   "San-mon" is usually written as "山門" meaning "Mountain Gate."  However, "Sanmon" at Zojoji Temple is written as "三門" meaning "Three gates."  It is an abbreviation of "San-Gedatsu-mon" which means a gate (mon) for getting delivered (gedatsu) from three (san) poisons of human being- greed, anger and ignorance.  So the purpose of gate is not only the way to Hondo but also the way to be free from poisons.  It has been said if you go through this gate, you'll naturally take three poisons away!

The vermilion-lacquered gate is a two-story structure. Enshrined in the upper story are image of Shakyamuni Buddha, Samantabhadra and Manjusri bodhisattvas, and the sixteen arhat disciples of the Buddha, which were created by Buddhist image sculptors of Kyoto when Zojoji was built.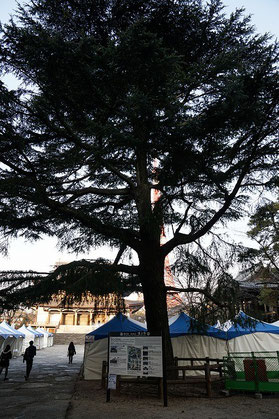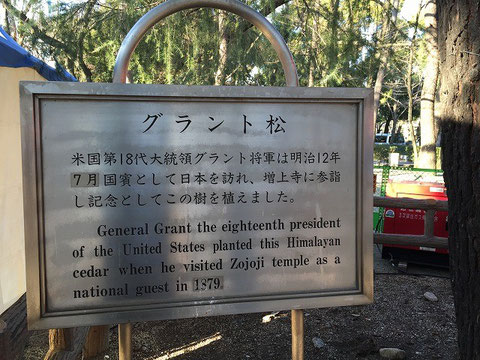 Right after passing the gate, you'll see a huge pine tree.  This Himalayan Cedar was called "Grant-Matsu (Pine)" since this was planted by General Ulysses S. Grant, the eighteenth President of the United States when he visited Zojoji Temple as a national guest in 1879.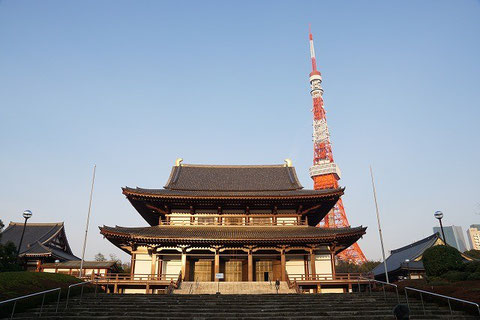 A main cathedral or main worship hall is called "Daiden" meaning "a Big Hall."   The main Buddha image is our Amida Buddha.  Together with Tokyo Tower, Daiden looks most beautiful in the morning light.  Also this Daiden with Tokyo Tower was filmed in  A 2013 film, The Wolverine.  Some action scenes were shot here at Zojoji Temple.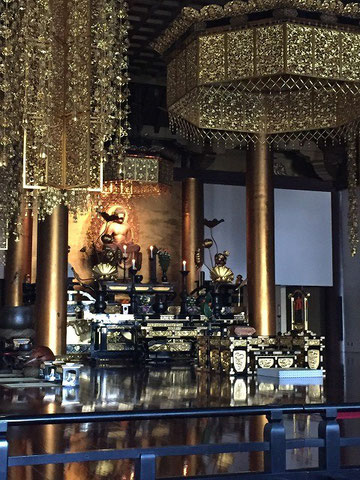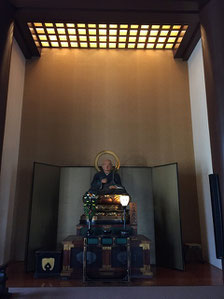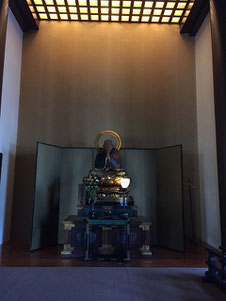 Statue of Master Shandao or Zendo Daishi (613-681), a Chinese Pure Land Buddhist Master.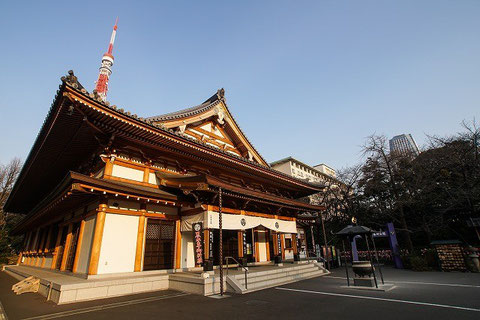 This smaller temple building next to Daiden is called "Ankoku-den."  The name "Ankoku" came from Tokugawa Ieyasu's Buddhist name and his main Buddha image of Amida Buddha has been placed to be worshiped here.  They say Ieyasu always carried this Buddha image with him, recited Nenbutsu and won the battles.   Also because the color of this statue was black, it became so popular known as "Kuro-Honzon (Balck Main Buddha Image)."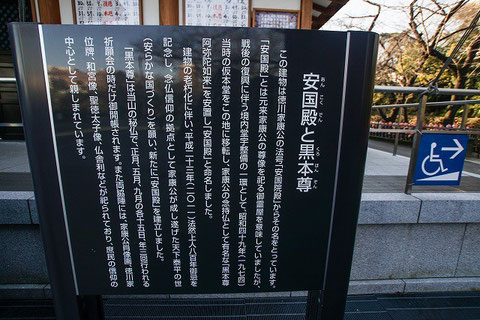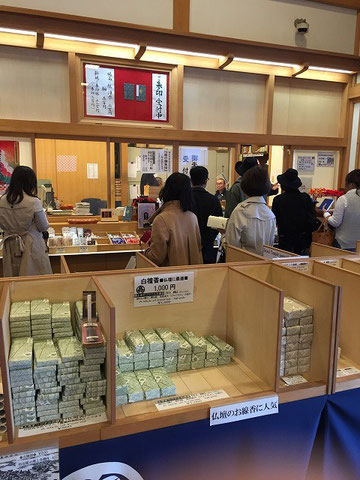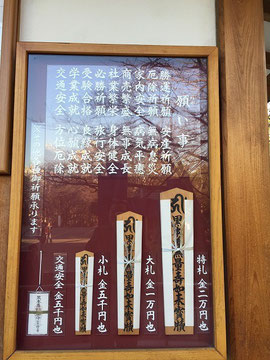 Many Omamori or Good luck charms are available inside this Ankokuden.  Also you may ask blessing service in the morning from 9:00 a.m. -12:00 noon.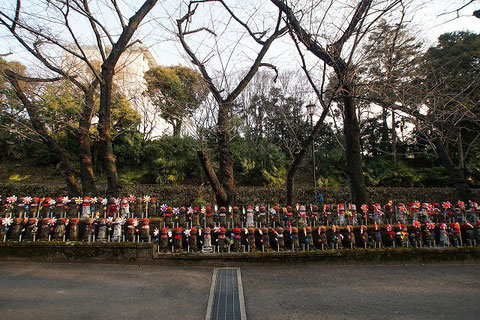 These Jizo Bodhisattva statues are called "Kosodate Shofuku Jizo." Wishing for good health and happiness of children, over 1300 Jizo Bodhisattva statues has been dedicated.  The numbers are increasing because anybody can sponsor this dedication of Jizo Statue.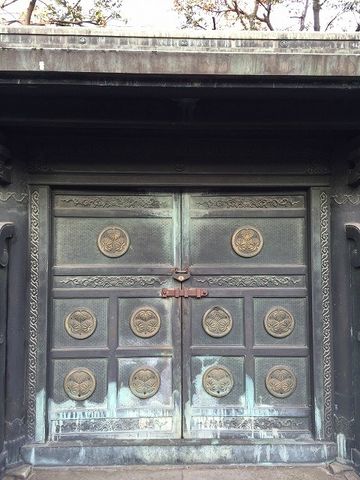 Served as one of family temples of Tokugawa Shogunate, bodies of six Shogun and their wives have been placed in the huge tombs. 
General Information:
Office Hour: 9:00 a.m.- 5:00 p.m.
Morning Service @6:00 a.m. Every Day
Noon Service with Offering of Meal @11:30 a.m. Every Day
Sunday Sermon @9:00 a.m.  Every Sunday
Betsuji Special Nenbutsu @18:30  Every 24th Day of the Month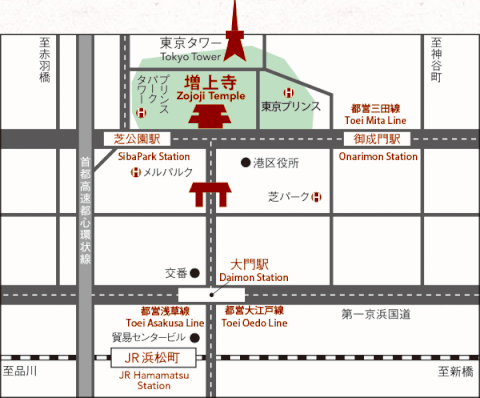 From JR Hamamatsucho......10 Minutes Walk
From Toei Mita Line Onarimon Station.....3 Minutes Walk
From Toei Asakusa Line Daimon Station...5 Minutes Walk
For more information, please visit Zojoji Temple Official Website.