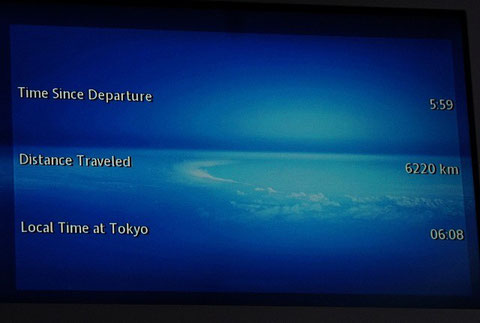 Although my health condition was not good in Japan, I achieved almost all my intended objectives such as attending Jodoshu Ministry Conference, meeting my parents and relatives, buying some temple equipment, supplies, books, staying at Internet Comic Cafe and eating my favorite Ramen! 
Also I had a surprise treat by our former minister Rev. Kodo Tanaka and Senseis from the Former Oversea Ministers' Association.  Rev. Tanaka hosted dinner two times at one of the fine restaurants in Tokyo.  There were actually more surprises (which I am thinking to write it later) but the most important thing was I was able to return home at Koloa safely on Saturday, March 5.
It took 9 hours 40 minutes from Honolulu to Haneda, Tokyo.  But on the way back here, it took only 6 hours 20 minutes from Haneda to Honolulu.  This was the fastest flight time I've ever experienced.  
The lady sitting next to me was so impressed by this fast flight time and told me, "What a difference! We got extra three hours!" 
At that moment, I agreed to her.  But soon, I had second thoughts about this gain.  I realized this gain was loss of my sleeping time!  Because it didn't take longer for the flight, my sleeping time became shorter.  We tend to think "gain and loss" about time.  However, time keeps just going on and on forever.  There is actually nothing to lose and nothing to gain about time.  Therefore, to gain extra time is just illusion.  It must mean to lose extra time for another thing to do.    Again, nothing to gain and nothing to lose....I thought that's the essence of time.
By the way, on the way back to Honolulu, I really enjoyed scenery of Kaua'i from the above.   The airplane passed Hanalei and Kapaa Town! It was my first time to see lots of houses at Kapaa from the above.