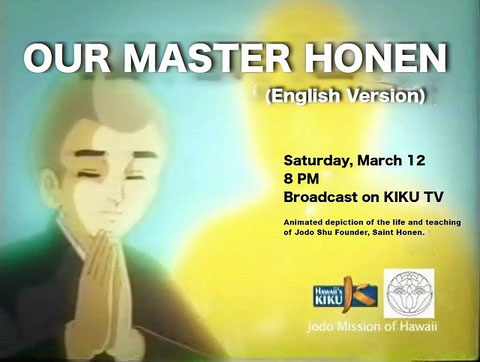 I've received this flyer above from Bishop Hara of Hawaii Council of Jodo Missions. 
So let me introduce this to you.
An animated movie of the life and teaching of Jodoshu founder, Honen Shonin (1133-1212), entitled "Our Master Honen" will be shown on KIKU TV on Saturday, March 12, 2016 at 8 PM.   This is completely dubbed in English.
It focused on half Honen's life; from his birth till the founding of Jodoshu in 1175.  How did Honen, born as a son of Samurai, became a monk?  What made him realize Buddhism for everyone?  Is there any way for everyone to be saved?  The seeds of revolutionary Buddhism, so-called teaching of Nenbutsu, are well depicted in this animation movie. 
Once again, this will be broadcasted on Saturday, March 12 at 8:00 p.m.  If you can watch KIKU TV, please mark this day on your calendar and watch it with your family!
By the way, this movie was originally made by Toei Animation & released by Chionin Temple in 1981 in commemoration of 850th Anniversary of the birth of Master Honen.   It was really amazing this animation movie for English speakers was already made over 30 years ago!