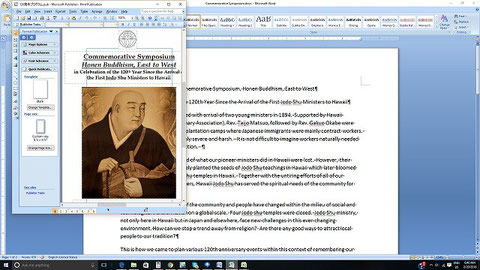 It was cold again this morning!  I don't know if this has relation but as compared to other months, much more members passed away in February.  Thus I have more memorial services in February.  Besides February is the month when airfare from Japan is cheaper and Japanese priests are not so busy, as a result, I have more guests one after another. 
The day before yesterday was one of a few days I was able to stay at the office, but I needed to spend lots of time to write an article about last year Symposium for the Pure Land Magazine.  I don't feel any difficulties about writing.  However because this was done almost one year ago and I wanted to write it better, it took me time to complete it!
Yesterday, I was satisfied with finishing a good article but while I had hard time to find what to conclude, I didn't like this job just because I knew there were many other things I should do!  There was a big frustration while writing.
One of them was cleaning the office!  Oh my goodness....without knowing it, my office has become worst jungle of paper ever! 
The good thing was I found many unopened envelops of offertory for the many memorial services.  Then bad thing was I also found some unopened envelops of bills I had to pay.  To my shocking, I found my credit card payment was overdue!  And this is just a beginning!
I know I want to finish cleaning but today I welcome two priests and tomorrow I have four services at Kapaa.  Then the day after tomorrow, I'll be attending to the workshop in Honolulu and next month, I'll be attending to the conference in Tokyo!
I'm really sorry I'm causing inconvenience to our members and friends but I do thank you very much for listening for my excuse at this time!