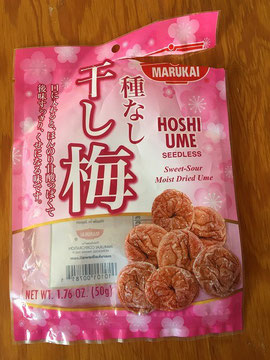 What a delicious Hoshi Ume (dried plum)!
This was a gift from Aunty Mabel and when I ate it, I felt two completely different tastes became one in my mouth.  This was just like Cy's pickled plum yesterday!  Sweet + Sour became so well-balanced which I want to call "Harmony of the Universe!"
I thought this was sold in Japan that's why I kept this empty bag.   But now I can throw it away because I just realized this was a Marukai Brand, which is also available on line!