Every year, I make it a custom to buy some additional calendars whenever they are on sale after the new year!  Because it's already February, now, beautiful Hawaii Calendar is just 25 cents each!!! 
Yes, I was waiting for this moment! and I was sooooo glad to buy 8 calendars (five for the office and three for the house.) 
According to the common sense, many calendars are not necessary, rather confusing and wasteful.   But I definitely needed some more calendars for the convenient way to look at my schedule.
How? 
Let's enjoy guessing the way of display......if you have time! 
Sorry, just kidding...you don't need to guess it but please look at the following picture at my office.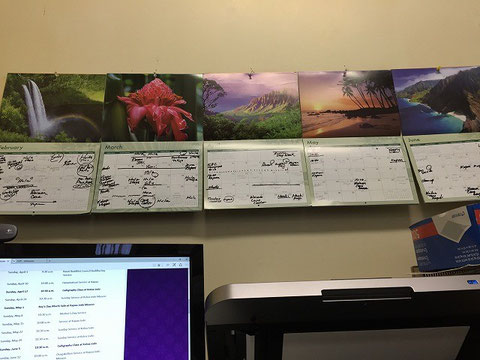 What a luxury!!!  I feel like I'm rich!  I'm using five Hawaii calendars at the same place! 
Of course, each calendar is only 25 cents.  However because there are many pages that I don't need to use at all,  I call it "a luxurious way to use cheaper calendars."