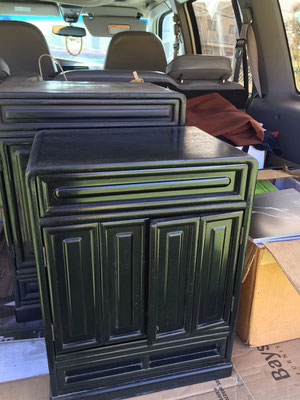 What a great idea to recycle Old O-Butsudan!
I never thought it but Eric, one of the active Jodoshu online group members, brought up this subject.   Then I found out some people wanted to adopt the O-Butsudan which were once dropped off by families who no longer follow the tradition. 
In the past, I burned some Old O-Butsudan and O-mamori together after discarding ceremonies.  But now I won't need to burn it or keep it in the storage. 
Fortunately, after a while, I saw an old O-Butsudan in the discarding box at Kapaa Jodo Mission and I asked members if I could have it. Then they kindly told me there was one more and another one would be coming.
This is how I was able to offer the Old Butsudans to our online members. And can you guess where are they going?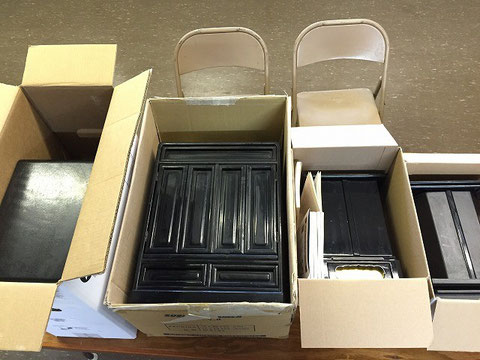 One is to the East Side of US mainland, one is to the South Mainland, one is to Germany, and another one is going to Thailand!
I am very happy preparing for the shipping and I believe O-Butsudan which were almost abandoned by the families will be happy to have their home.  Of course, butsudan is not a human being but just a thing, so Butsudan cannot be happy or at least we don't know it's happy or not. 
But Japanese Buddhist tradition see everything can be a potential Buddha.  That is why Japanese put honorific "O" in front to the word such as O-mizu (water), O-hashi (chopsticks) , O-Butsudan and O-mamori.  O is an expression of high respect to things or people and by adding O to the noun and believing even things can be Buddha, then we can cherish and take best care of the things which could last for a long  time.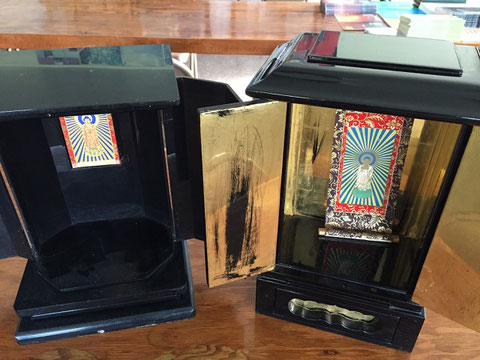 By the way, Butsudan literally means "Platform or stage (Dan) for the Buddha (Butsu)" and it is usually translated as "household Buddhist shrine" or "family altar."   As "dan" also means a step(s), there are usually several steps from up to down and at the highest platform, Buddha statue is placed.   I can tell these two altars actually came from the former Hongwanji members, and here in Hawaii, a scroll of Buddha image is popular.
If you know somebody who wants to discard the butsudan, please let me know.  At the same time, if you want to adopt an old Butsudan, please feel free to ask me.   They are free but donation is always appreciated.