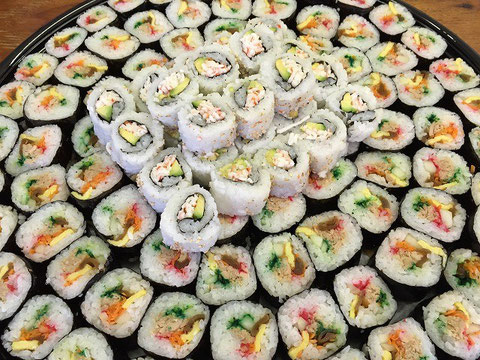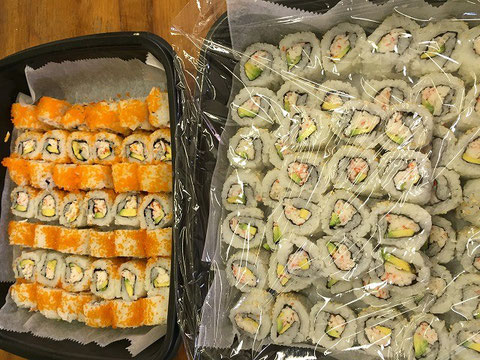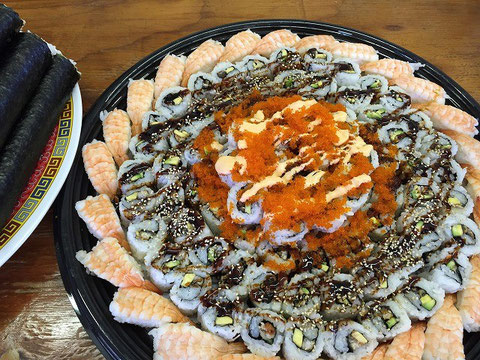 To be honest with you, my Sushi is not so very good.  There are many restaurants or stores to provide better Sushi.  However, I can make a good looking party-platter which make the party very gorgeous. 
So will you order Sushi from me?   No, no, no, I'm just kidding.  I'm pretty busy right now and I don't want to make Sushi too often.
But yesterday, I donated these platters above for the Kapaa Jodo Mission New Year's Party.  Although I'm good at making Sushi, it took me almost 3.5 hours to complete these suhi platters above.  Then I proudly commended myself for these Sushi made all by myself at Koloa.
But there was one lady among the participants, who looked very frown.
Oh, no!  It was my wife!!!
I completely forgot to mention she helped.  It was I who asked her to help because she's so good at frying eggs for Sushi.  Although the time she spent frying eggs were only 15 minutes, but without her special-made egg, I couldn't have a platter!
This shall be a very good reminder that when I acknowledge people, their efforts and gifts, I should be very careful not to miss the names.