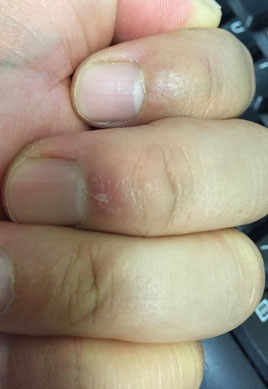 It's been a long long time since I had a hangnail last time. 
 A hangnail is called "Sasa-kure" or "Saka-muke" in Japanese and there is a very famous superstition about "hangnail."  
That is, hangnail will come out whenever you are disobedient to your parent. 
Another superstition says, if you revolt against your father, you'll get a hangnail!   
Well, I am not a superstitious person.   Rather I can enjoy to learn various superstitions and their origins. 
However, can you believe what really happened to me?
Believe it or not, this superstation about hangnail apparently became true.
The truth was  I might have treated my father disrespectfully. Then I got an hangnail.
Maybe, you might be curious how can a Buddhist minister treat his father (minister) badly.
First, I was so surprised to know  my father has just started Facebook!
Then he sent me a friend-request!!!
But I deleted this request so soon.....and after 3 days, I got an hangnail.
I'm supposed to be open and welcome any request... but this was my first time I deleted a friend-request.
Am I a bad son?
But I have a reason to reject.
If my father asked me the reason why I didn't approve, I would definitely answer like this.
"Hey dad, you are not my friend!  You are my father! Right?"