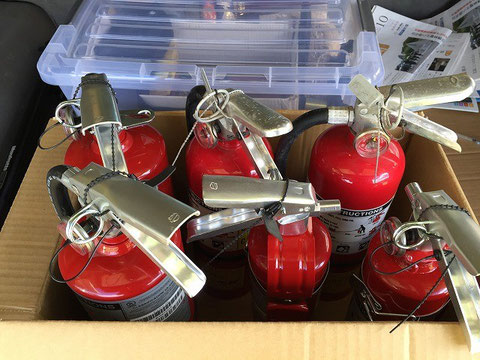 Every year, there is an inspection for the fire extinguishers from the fire extinguisher company at Lihue.   For the protection and security of the temple buildings,  fire extinguishers are very important to be placed. 
I was, however, very unsatisfied with the company last year.   The reasons I didn't like were
1.  Inspection fee were very expensive.   They seemed to replace just labels of inspection every year while they said a fire extinguisher should be good for 12 years.  
2.  They were entering the buildings without any notice and my approval. 
3.  I cannot choose the company?
When I gave these complaints to the company, they offered me options to save money.   Then I knew I could bring all the extinguishers to the company for receiving the inspections instead of their coming here.  I knew this saved almost $60.
If our temple is rich, I would automatically accept the annual inspection without doubt.   I wouldn't  need to go to Lihue to bring all the extinguishers.  But after thinking how hard I have to work in order to gain $60,  I thought going to Lihue was much easier and worth doing it.  
I truly appreciate our temple for giving me a low income.  This is not an irony, but I mean it.   Thanks to the not much salary, I had great opportunities to work  jobs....then these jobs made me realize value of money and now I know how to save money!