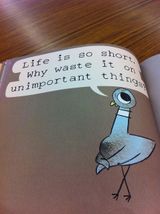 Recently, my daughter came to show me a picture book and told me, "This pigeon is like Daddy!"
It says, "Life is so short. Why waste it on unimportant things?....like a taking bath!"
I quite agreed with her and couldn't help but LOL.
The book title was  "The Pigeon Needs a Bath! "  and I really loved it.
But there is one big difference between this pigeon and myself.  I have an amazing product to clean/cleanse myself without taking a bath!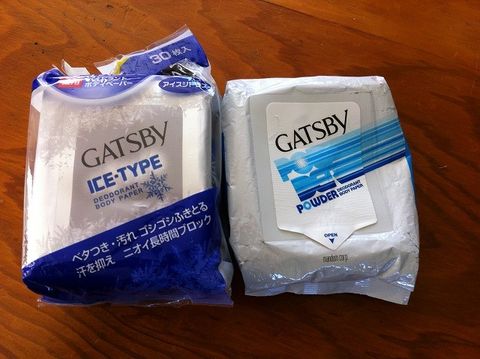 It's called "Deodorant Body Paper!" from Japan.  This contains some sheets of wipes with a menthol or some flavor for both antiperspirant and cooling down the skin.  Amazingly, only one sheet wipe can be good for most of the body to remove bad smell.  Yes, it's so working excellently for wiping away sweat and grime.

I think this is one of the best Japanese products and every time I go to Japan, I  buy seveal kinds of deodorant paper without fail.   I'm calling this product "a secret weapon" for my savy life.   With this , I can save both time and water!     Also when I don't use hotel, I always use this as a shower!

Anyway, I saw one of these products at amazon.com.   In Japan, it cost only $4 for 30 sheets but I noticed it costed almost double expensive at amazon.  But most of the reviews were sooo good!

I'm not a salesman of this product but let me quote...from amazon.com

"Love these towels although they are expensive and difficult to find. When it comes to cooling products, the Japanese are famous for their freezing foams and wipes."

"I had discovered this product years ago on a sales trip in Japan. This is the land where businessmen dress in full suit, white shirts, and ties; even when it's 90-100 degree F weather with 73% humidity outside. So how does a salesman stay cool, dry and confident when he meets and greets customers? The Gatsby Ice deodorant Body Paper of course!"

Very good comments about this product, but yesterday when I took a bath after working so hard for the mother's day (atually last time I had bath was Friday nite), I truly thought taking a shower was much superior than this deodorant paper! 

By the way, did you notice that so many English words in the packages of the deodorant paper picture in the above?  Nowadays, you can find more English words in the products sold in Japan.