In Japan, there are many dishes which are served over rice in a bowl.  They are called "Donburi-mono" or just simply "Donburi" meaning "Bowl."  Usually, the name of the dish contains the word "Don" in the end.  Yes, "Don" is abbreviation of "Donburi."  Because this dish is convenient to serve, eat and wash, there are truly many types of rice bowl.
For example, my favorite Gyu-don (beef- bowl), Ten-don (Tempura bowl), Katsu-Don (Cutlets-Bowl), Una-Don (Eel-bowl), and Ikura-Don ( salmon roe bowl) and so on.  Surprisingly, more and more rice bowl dishes are born after meeting another dish of the different countries.  I think one of the new dishes are "Poke-don or Poke-bowl" made in Hawaii.  Also now there is a "Spicy Ahi (Tuna)-Bowl" in Hawaii.
Anyway, today I would like to introduce a recipe of "Oyako-don."  Have you eaten "Oyako-don"?  and Did you know this meaning? The name of "Oyako-don" is very unique, because "Oyako" in Japanese means "Parent-child"    Then what is "parent-child bowl?"
Usually "oyako-don" indicates chicken as a parent and an egg as a child.  Because this dish contains both chicken and egg, they are called "Oyako-don."  By the way, when I went to Hokkaido, I've eaten "Oyako-don" which was actually combination of both "Salmon and roe."   I thought the naming was very interesting.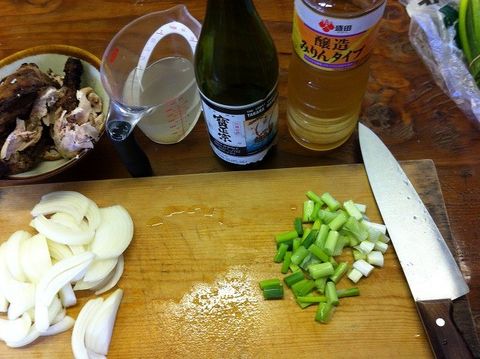 Ingredients (4 servings)
Chicken Thigh   8 oz or more * I used a leftover hulihuli chicken from the freezer.
Onion  x 1/2 Onion
Egg x 4
Green Onion x 1 stick
Water  x 200 ml with Dashi (half stick of Instant broth granules or stock granules.
Soy Sauce x 4 table spoon
Mirin x 4 table spoon
Sake x 2 table spoon
1. Cut onion, chicken and green onion.  For chicken, I used a leftover frozen hulihuli chicken.  Because hulihuli chicken was sold here back in September 2012, this means chicken had been in the freezer for at least 2 years and 6 months.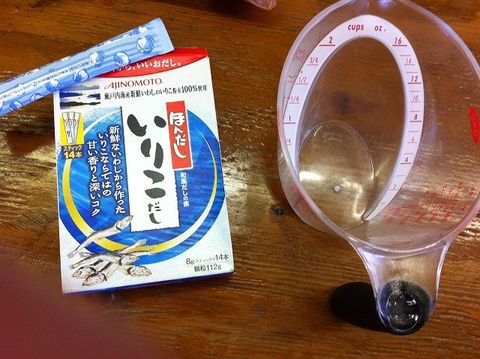 2. Make Dashi.   200 ml water and half stick of instant broth.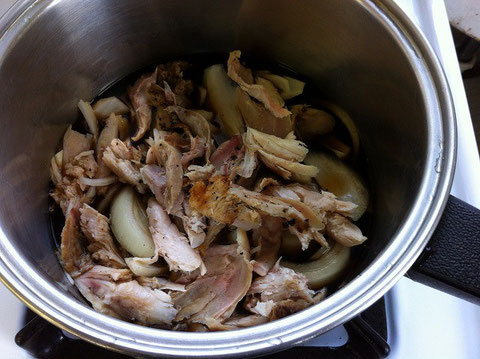 3. Put Dashi Water, Soy Sauce ( 4 table spoon), Mirin ( 4 table spoon), Sake ( 2 table spoon), chicken and onion in the cooker and boil with strong heat.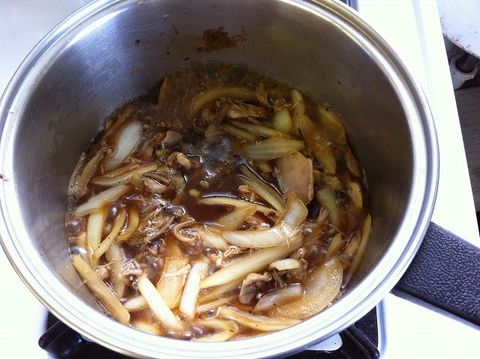 4. After boiling, make it medium heat and then continue to heat for 5 minutes.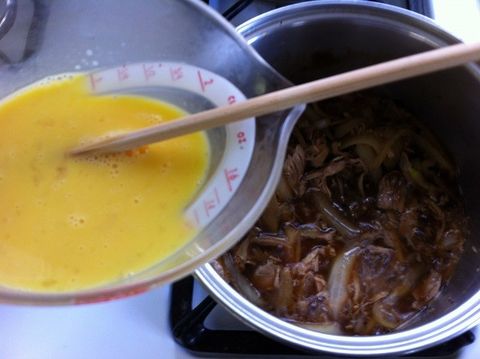 5. After five minutes, add beatn eggs and mix them gently.

6. Add green onion and completed.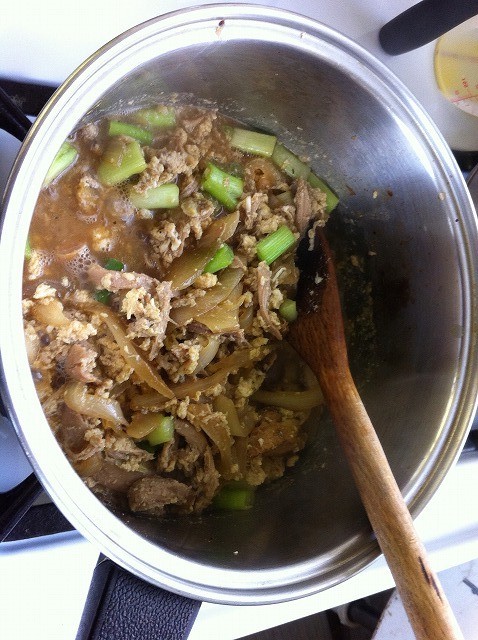 This was good but I think I will put less soy sauce next time.  But at this time, I am very happy I was able to use leftover old chicken for a new dish!  I think I'll make this for members since we have some more leftover chicken in the freezer!