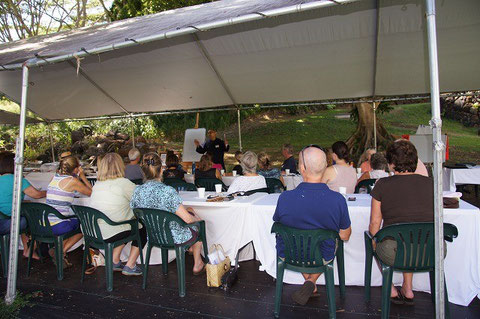 When I was a guest speaker at Lawai International Center during the Calligraphy workshop last time, I received good comments from people who attended. 
I told my wife, "Everybody said my talk was very interesting."  
But she replied immediately.  "That's not true.  How many were everybody for you?"
I recalled all the faces of the people who came to leave comments.
She was right.
There were about 40 people at one session.   But all the people didn't come to me.   I counted it was 9 people who said "very interesting."  But I felt it was everybody!
The lectures and presentations which we received at Jodo Mission of Hawaii yesterday were great.   One of the most impressive words by Dr. Kiyohiko Fujimoto was "Care one person, love one person and help one person in front of you.  Do not emphasize on "everybody."  For religious organization, to help the one who needs assistance now is more important than to do for everybody." 
At the time of lunch after the symposium , 22 people told me they enjoyed it.  16 people thanked me for the Kauai Kookies which my wife and I donated.   11 people told me I was a good MC and one person asked me to be a next Bishop.
I'm glad there were more than one person who sincerely appreciated this opportunity of the symposium.   With this reason, I regard this event as a success.