Because I often talk about "Sushi" and "Cake", people sometimes misunderstand that I cook everything.....Sometimes, people say, "Oh, your wife is lucky.  She doesn't need to cook."   HOWEVER, I had NOT cooked AT ALL at home for almost 15 years.  For members and friends, I was happy to be a servant to cook but inside at house, I was like a Samurai....Everyday was like father's day.  I think I am a typical Japanese man.  I didn't take care of my children much, too. 
I always went out to take photos, especially for the photos of humpback whales.  I don't know why but I'm so crazy about whales.  At night, I work at my office.  I went home when I was hungry. 
This year, I made a biggest decision.  I imagined what would happen to my family if I died suddenly?  I also imagined what would happen to me if my wife died suddenly?  These imagination made me think...this is no good.   I need to spend more time for my children and she'd better have a job.  I think imagination is so important when we think about better future.
Fortunately, she was able to get a full time job of graphic design thanks to the recommendation by Auntie Mabel.  This is how a new life began.   She started working outside and I started to be a househusband last month.
Yes, it has been a month since I started cooking almost every meal.  I never knew cooking was sooooooooo fun.  It is true I get busier but I can actually enjoy how to manage this busier life.  Because I want to have more free time, I am making efforts to do all the jobs efficiently.  Saving time and money, and yet enjoying life.....This is so much fun.   I didn't tell this househusband to anybody, but I was able to manage even when I had 6 guests from Japan.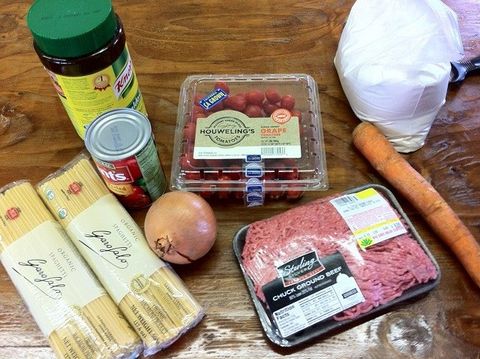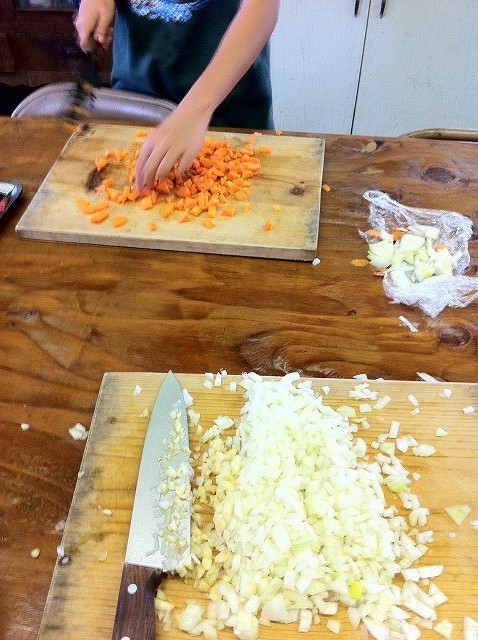 Yesterday, my children and I together made Spaghetti with meat sauce.  This way, I can spend time with them.  At the same time, they can learn cooking. Eventually, they can cook for me...I hope.
Spaghetti Meat Sauce / 10 servings
1. Chop carrot (1) , onion (2), garlic (5 small pieces) into fine pieces.
2. Fry finely chopped carrot, ground beef (1.2lbs) and then finely chopped onions with olive oil.  Because I like onions, I used two onions.  It can be more or less.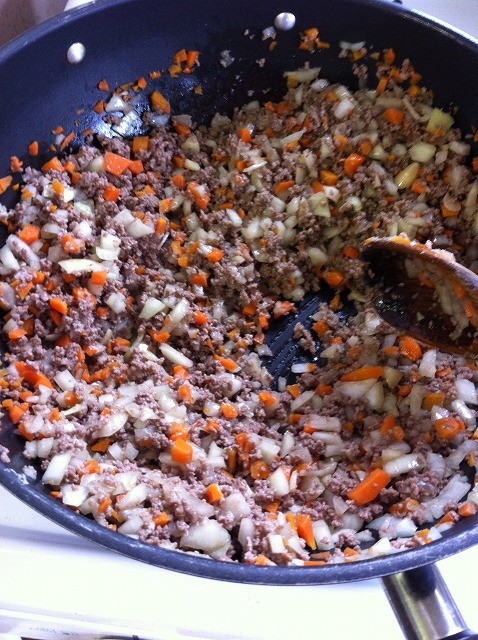 3. Add water (2 cups), whole Tomato Can (1 can), flour (2 table spoon), Chicken Flavor Granulated Bouillon (1 table spoon), Ketchup (4 table spoon), Sugar (1 table spoon), Worcester sauce (3 table spoon →I used Tonkatsu Sauce).

*I also put some more mini tomatos for extra tastes.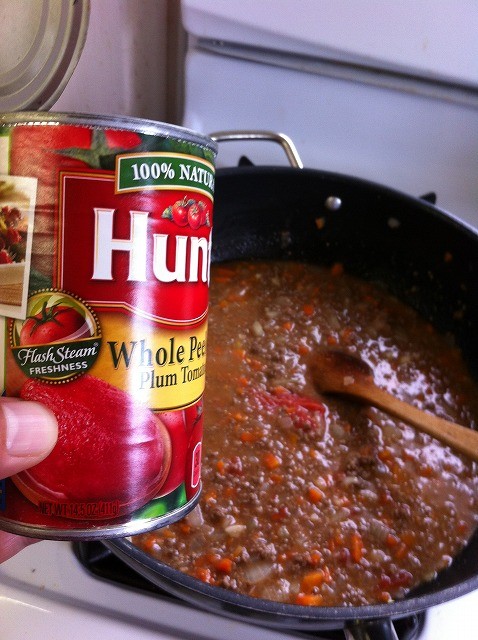 4. Mixed them well and continue to boil.  Add salt a littlbe bit.

5. Try taste and add some more ketchp if you feel it's lightly seasoned.

6.  Boil pasta with salt for about 12 minutes.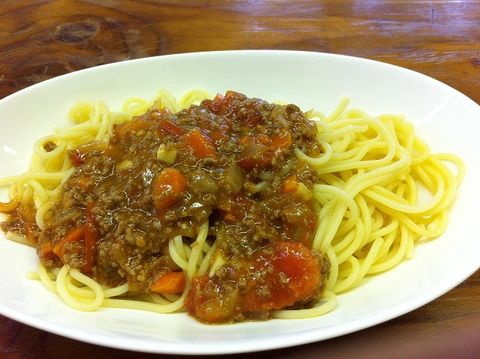 Completed!  Vegetables we cut were not fine, but tasted fine.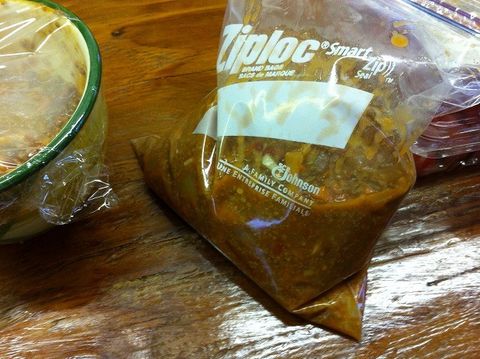 I put leftover sauce into the freezer.  This can be for meal next time.

By the way, this recipe was based on the website, called "cookpad." 
Let me share the ingredients of the original recipe for 4 servings.
Ingredients
Ground Beef    (7oz )
Onion   (Medium Size One)
Whole Tomato  (400ml)
Carrot  (1/2 carrot)
Garlic  (2 small pieces)
Shiitake Mushroom (3 pieces)
Ketchup  ( 2 tbs or more)
Worcester sauce  (2 tbs)
Consomméclear stock or Chicken Flavor Granulated Bouillon  (1/2 tbs)
Flour  ( 1tbs)
Sugar (1/2 tbs)
Olive Oil