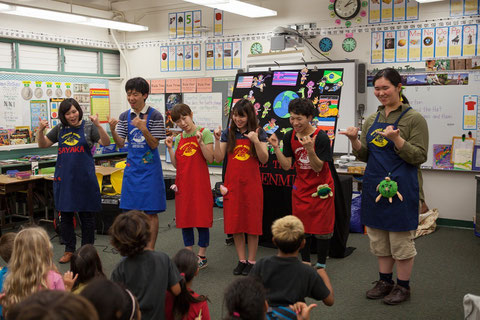 Am I able to host 6 students of Shukutoku University? Is it worth spending my time and energy?
My answer is this picture above !
After seeing their smiles and audiences' reactions , all my doubts disappeared.
It was absolutely worth spending my energy to take care of the 6 students of Shukutoku University for four whole days.  Their Panel Theater performances were quite impressive and well-received everywhere.
What can I give back to them? 
What can be a good Omiyage or souvenir?
My Omiyage is usually Kauai Kookies, but in the morning of Tuesday, I had a very good idea.
It was a kind of last minutes, but I asked Mr. Dennis Fujimoto of the Garden Island Paper if he could write an article about their performance.  Because their entertainments were for the children and elderly of Kaua'i, I thought it would be nice to recognize their efforts in the paper.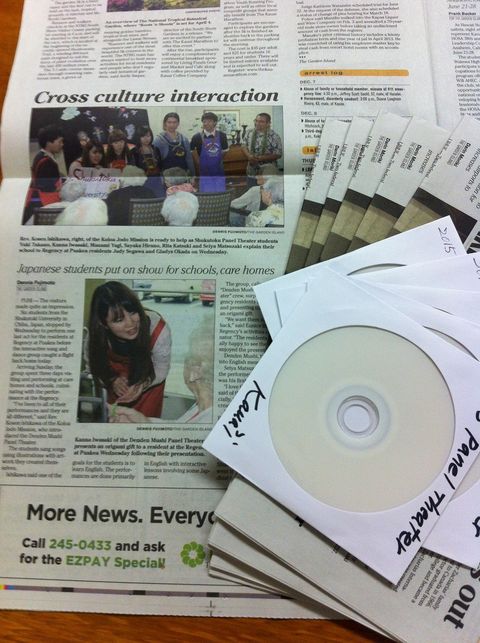 This morning, I'm grateful to Mr. Fujimoto and the Garden Island Paper to put the article in the paper.  
Thanks to them, I now have a good Omiyage to 6 students!!!   And I hope this will be good for the Garden Island Paper, too, since Japanese students can buy some more paper for their families and friends!   I quite agree with Mr. Fujimoto that hopefully they can come back to this island to stay and spend some money!   And eventually, more repeaters, better economy.  And better ecnomony will bring more donations to our temple, too!   So really good Omiyage is actually really good for everybody! 

I'm going to take them to Hanalei this morning.  And this afternoon, they are leaving here for Japan.  Yes, time flies soooooo fast!
At this time, I want to express my sincere Aloha and Mahalo to the wonderful studetns of Shukutoku University and also to those who accepted their performances.

External Link:
the Article, "Cross Culture Interaction"