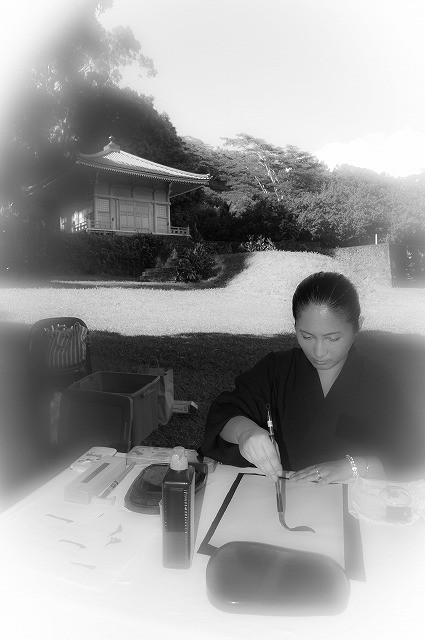 Yesterday, I had a phone call from a visitor.  His name is Glenn.
He was very polite to ask me if I knew a calligrapher who could write the Chinese Characters or symbol which represent a famous Zen saying, "Chop wood Carry Water."
My answer was both yes and no.  Yes,  I know calligraphers!  One of them happens to be my wife.  But at the same time , "no" I couldn't think of the similar Japanese or Chinese saying of "Chop wood carry water."   I needed time to find out the right characters.  So I asked him to send me an email so that I could reply him later.
Interestingly there are many English sites which introduce or quote this saying and lots of sites are introducing the longer version of this saying.
"Before enlightenment, chop wood carry water. After enlightenment, chop wood carry water."
So many quotes on so many websites!  However, there were only several Japanese sites which mentioned this English Saying and none of Japanese translation didn't ring my heart. 
There is no doubt this saying is talking about the heart of Zen.  And it's very famous here in the United States.  But why there is so little information on this saying in Japanese.
Soon I realized this must be my wrong assumption. 
As you know, it has been a long time since Zen became popular not only here in the United States but also in the world.   There are now many Zen temples and Centers.  And there are many priests and practitioners in the world.  Zen has transcended the bars of nations and has become international.
But my assumption or maybe your assumption was that all Zen sayings were originated in Japan or in China or in the East.   However, if we can be mindful of what they want to say,  it's not necessary to stick to the sourcebook.  Nor it's not necessary for the saying made in the East.   Since there are now many non-Japanese Zen priests in the world, I think it is very natural some famous sayings were made in the west.
As you know the heart of Zen is non-attachment and no limitation.   This means there will be more and more new Zen sayings will be born anywhere in the world and anytime.   
For example, this morning, I rephrased the Zen saying.
"Before enlightenment, I cook rice make sushi.   After enlightenment, I cook rice make sushi."
This kind of saying can be made endlessly.  In fact, there must be many people who have written this kind of saying.  However, in order for the saying to be famous, it would need the person or people who found the deep meaning of the saying and want to spread.   
This is just like the saying "Cross the Rubicon."  
This is what my favorite English Philosopher, Edward Hallett Carr says in his book, "what is history?"
There were tremendously many people who crossed the Rubicon in the past. And there will be many people, too, who would cross the Rubicon.  And Caesar, too, probably crossed the Rubicon back and forth many times.   They were all facts.   But this short saying became so popular because there were some historians who found a deep meaning of Caesar's crossing a Rubicon in the history.   Then it became famous as a saying.
Nowadays, good information, useful information, and inspiring sayings can be spread through the world so easily and instantly.   But because information can be shared so easily and so instantly, it may become more and more difficult to find the right source.  There are always false information around us, too.
But fortunately, this time, I happened to find two possible sources of the saying, "Chop Wood Carry Water." I also got not only Chinese Characters bus also had some interesting meanings of the saying.
 "Before enlightenment, chop wood carry water. After enlightenment, chop wood carry water"What can be the meaning of the saying?
I'd like to share my understandings with you at this coming Sunday Service on Sunday, February 22 at 10:30 a.m.