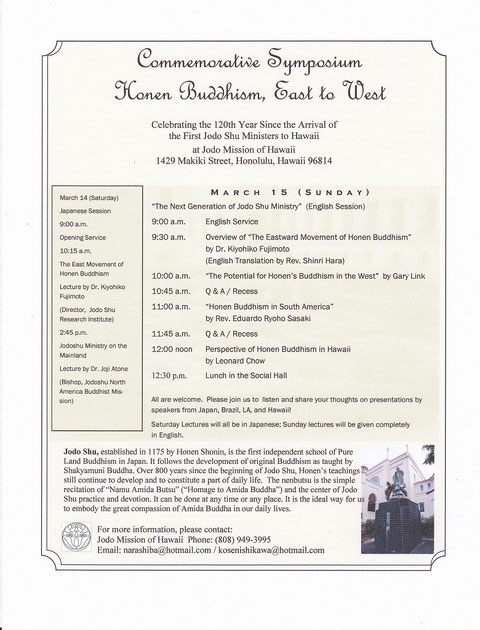 Last September Hawaii Jodo shu observed the 120th Commemorative Service of the Arrival of our Pioneer Ministers- Rev. Taijo Matsuo and Rev. Gakuo Okabe (in 1894) at Hamakua Jodo Mission. 
Continuing our observation of the 120th Anniversary, Hawaii Jodo shu will host a Commemorative Symposium- Honen Buddhism, East to West in Celebration of the 120th Year Since the Arrival of the First Jodo shu Ministers to Hawaii on March 15th at the Jodo Mission of Hawaii.

March 15 (Sun.)  English Session
9:00 a.m.                  English Service in the Temple
9:30 a.m.                  "The Next Generation of Jodo Shu Ministry"  
                                   Symposium in the Hondo
   Introduction of "The Eastward Movement of     Honen Buddhism" Lecture by Dr. Fujimoto  
   (translated by Rev. Shinri Hara)
10:00 a.m.                    "The Potential of Honen's Buddhism in the
                                      West" by Gary Link
11:00 a.m.                     Q&A / Recess
11:15 a.m.                     Honen Buddhism in South America by Rev.
                                       Eduardo Ryoho Sasaki
12:15 p.m.                     Q&A / Adjourn
12:30 p.m.                     Lunch in the Social Hall
The day will begin with service at 9:00 AM and continue with presentations from Dr. Kiyohiko Fujimoto, Director of Jodo shu Research Institute in Japan (Rev. Shinri Hara summary of his lecture in Japanese); Gary Link nenbutsu practitioner from New York speaking on the possibilities of Honen Buddhism in the West; Rev. Ryoho Sasaki 2nd generation Japanese-Brazilian minister presenting about Honen Buddhism in South America; and Leonard Chow, President of Hawaii Kyoku discussing perspectives of Honen Buddhism in Hawaii. All are welcome.  Please join us to listen and share your thoughts on presentations by speakers from Japan, Brazil, LA , New York and Hawaii.

Saturday session will be all in Japanese and mainly for the ministers, but if you are interested in listening it, welcome!