At the end of last year, I have used all the cake containers which uncle Alan gave me.   So I bought new disposable containers.
To my surprise, one container is pretty expensive although it says "disposable."   
We tend to think it's very cheap because it's disposable.
But it is not. 
I realized one cake container was as almost expensive as the cost of cake ingredients.
Sushi containers, too, are not cheap.
I want to reuse it again and again as many times as possible while keeping it clean.
How?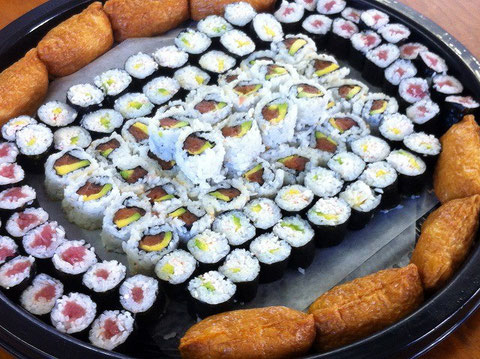 I had a very good idea yesterday!  
I used Wax Paper for the base and put Sushi on it. 
This way, it should be easy to clean up!

And I thought....next time when I bake cake, I'm going to use wax paper, too, for the container and cake.
We'll see.

By the way, today's refreshment after Sunday Service, is my baked cake as you see the picture above.   Two cakes were gone and so it's leftover....
But according to Japanese saying, "Nokorimono ni wa Fuku ga aru!" meaning, "There is fortune in leftovers."   The similar English saying is,
"Good luck lies in odd numbers."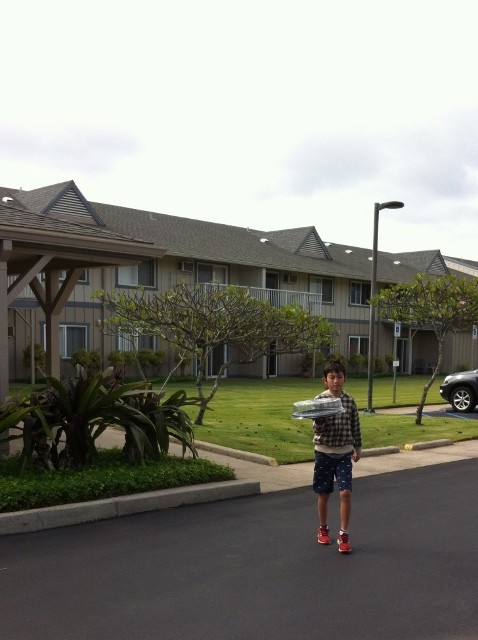 When I give a gift of Sushi, it is hard for me to say..please return the disposable container.   So I sent my boy to get it.  I thought he did a very good job!