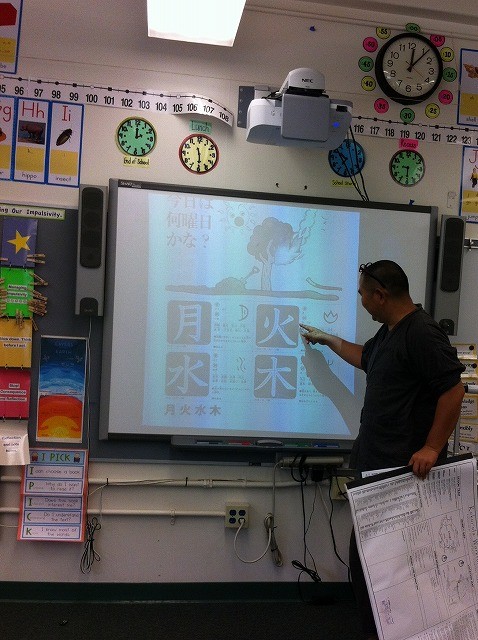 Yesterday, my wife and I went to volunteer to teach calligraphy at Koloa School.  This is a part of their culture-day programs for children to experience various cultures.    According to my wife, she wrote my name on the volunteer sheet....that I can teach Japanese language, Calligraphy, Bon Dance and making sushi.   I didn't know she submitted a volunteer sign-up but this has been her way.   Whenever she thinks I should do, she makes a kind of arrangement that I cannot say no.   Indeed, I couldn't say no when school called me.
Then school teacher asked me to teach calligraphy for the 2nd grade.    Surprisingly, there are a total of 75 students for three classes at the school.    One lesson is about 15 minutes x 3 times.
I started a lesson with my favorite explanations of Kanji.  Then I let children guessed meanings of some simple Kanji.  I noticed they were soon attracted to the world of Kanji. 
Then my wife demonstrated how to write the characters and their English meanings.   I thought we were very good "combi. (Japanese way to say combination)"

As you know, children are one of most honest creatures.   I didn't need to ask them if they were enjoying calligraphy.   Their happy faces were telling they were having fun time by learning something new.   Many students told me, "I like calligraphy",  "so fun!"   "I want to do more."
I thought lesson time was too short but because it was such a short time, they were able to concentrate on writing Kanji and they enjoyed a lot.   
I think many people do love sample tasting at stores such as Costco.  Sample food always tastes delicious, I think this is because a little bit food stimulates our desire to eat more.  
In like manner, a little bit calligraphy lesson must be very good for children.   We were very happy to see happy faces of children.  Hopefully, I want to do this kind of lesson more in the future.