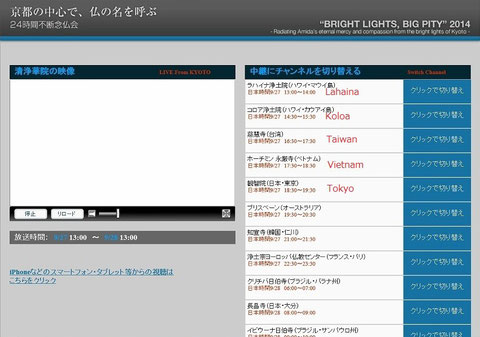 Starting from 6:00 p.m. tonight,  one of the most active Jodoshu Nenbutsu Groups in Japan will sponsor 24 hours Ceaseless Nenbutsu Chanting at Shojoukein, Jodoshu Head Temple in Kyoto. 
They will broadcast their ceaseless practice here and the following temples from various places will take part in the Nenbutsu Relay.
This time, Chua Vinh Nghiem Temple from Vietnam, Jiseonsa Temple from Korea, and Tze Hui Temple from Taiwan will join us in chanting their ways of "Namu Amida Bu."

You can watch their internet broadcasting from the each temple's link below.   From Hawaii, Lahaina Jodo will start first at 6:00 p.m. - 7:00 p.m. and then Koloa Jodo will follow at 7:30 p.m. -8:30 p.m.

For your convenience,

Hawaii Time + 3 hrs......Los Angeles Time

Hawaii Time + 6hrs.......Boston, NewYork Time

Hawaii Time + 7 hrs.......Sao Paulo Brazil Time

Hawaii Time + 19hrs......Tokyo, Japan Time

I hope we all  have a good nenbutsu day!


Schedule

6:00 p.m. - 6: 00 p.m.      Shojokein Temple ( Kyoto)
(from 13:00,  Sept. 27 - 13:00, Sept. 28, Japan Time)

Hawaii Time

6:00 p.m. - 7:00 p.m.       Lahaina Jodo Mission (Maui, Hawaii)
7:30 p.m. - 8:30 p.m.       Koloa Jodo Mission (Kauai, Hawaii)
9:30 p.m. - 10:30 p.m.     Tze Hui Temple 慈慧寺(Tainan City, Taiwan)  
10:30 p.m. - 11:30 p.m.  Chùa Vĩnh Nghiêm  Temple ( Ho Chi Minh City, Vietnam)
11:30 p.m. - 12:30 a.m.   Kanchi-in Temple (Tokyo)
Saturday, September 27

12:30 a.m. - 1:30 a.m.    Amida-ji Jodoshu Buddhist Community of Australia (Brisbane, Australia)
2:00 a.m. - 2:30 a.m.        Jiseonsa Temple 知宣寺 (Incheon, Korea)
3:30 a.m. - 4:30 a.m.        Jodo Shu European Buddhism Center (Acon, France)
11:00 a.m. - 12:00 p.m.   Jodoshu Nippakuji at Curitiba (Curitiba, Brazil)
1:00 p.m. - 2:00 p.m.       Choshoji Temple (Oita)
2:00 p.m. -3:00 p.m.        Jodoshu Nippakuji at Ibiuna (Ibiuna, Brazil)
4:00 p.m. - 5:00 p.m.       Seiryoji Temple (Taiwain)