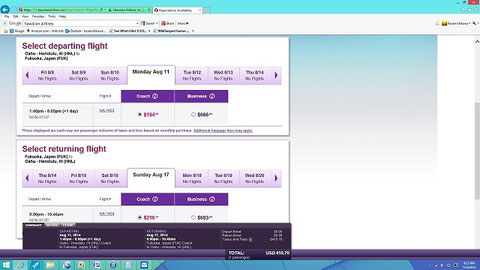 Our friend called me yesterday one round trip from Honolulu to Fukuoka was only $410.70.   Because Hawaiian airlines quit the flight to Fukuoka last month, this flight sounds like air charter.  The dates of flights are already set as August 11 (Leave HNL) and August 17 (Leave Fukuoka).   No other dates are available.  But I just cannot believe it!  One round trip from Hawaii to Japan is $410.70.   I regretted I had already reservation to Japan on the same day by another airlines.
When I told my student during Japanese lesson, he instantly made reservation to Fukuoka.   He saw there were only 7 more seats left.  Now at 4:40 a.m., they are still available. 
But there is one problem.  You cannot make reservation from outer island to Fukuoka all at a time.  You need to make reservations from Honolulu to Fukuoka and Lihue to Honolulu separately.  Also going to Honolulu may be expensive.
Yet, going to Fukuoka sounds soooooooooooooo attractive.  Because I cannot use this flight, I want my friends to take a good chance going to Fukuoka.   Thank you Lisa for this information!