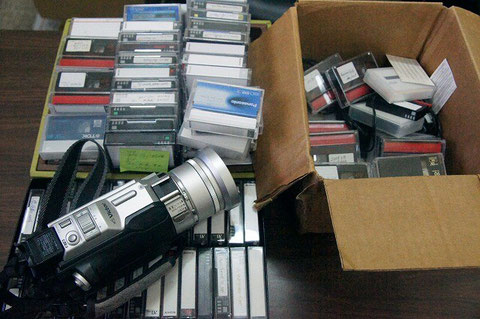 Yesterday, I completed editing videos of May Day Program at Kawaikini School.   This means I took videos of three different schools' May Day Program this year.  But that was not ending.
My engagement in battle with videos continues.
I've found about 100 mini-DV tapes which I took since 2001 and most of them are not edited yet.   I started to transfer these videos to DVD and then uploaded to my youtube account.
As you know, the quality of old videos at youtube looks not good.  Because I cannot see it clearly, it sometimes gives frustration.  However, I realized there were some old members and friends in the video, who already passed away,  I thought I should share the videos with people who might be interested in.
By the way, the best way to watch Mini DV tape is through the old TV.   The quality of Mini DV tape is actually good, but as compared to the super-good monitor which is known as High-definition television, it's not good.    But through the old TV, the quality of the old tapes is still good.
I just realized the imporatnce of "the combination."  
It is not always the best product that produces the best result.  It is not the smartest guy that produces the best ideas.  It should be always "the best combination" that produces the best result.