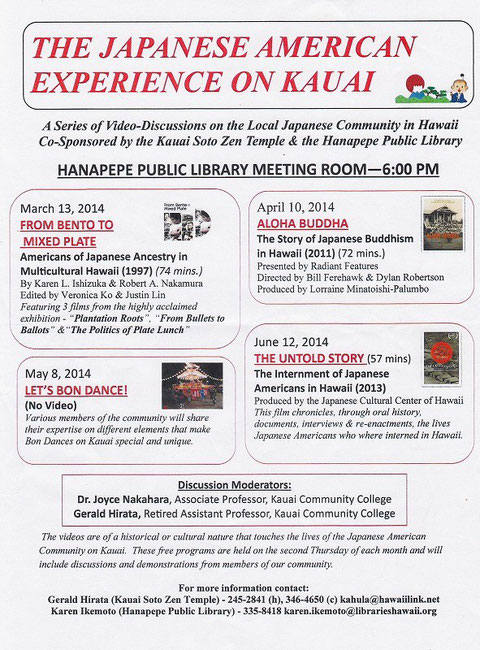 Kauai Soto Zen Temple and Hanapepe Public Library are co-sponsoring a wonderful series of Video-Discussions, titled "The Japanese American Experience on Kauai" at the Hanapepe Public Library Meeting room.
Being invited by Mr. Gerald Hirata,  I attended to the presentation of "Aloha Buddha" and made comments after watching video.  I thought this was such a wonderful service to the community and it was no wonder amazingly-lots of people go to the Kauai Soto Zen Bon Dance.  I deeply realized that excellent attendances has excellent reasons.
Tonight from 6:00 p.m. at Hanapepe Library, they do have another presentation of "Let's Bon Dance!" and I have been asked to talk about "religious and cultural meanings of O-Bon."  Sorry at the last minutes, I hope to see you there.   As always, my explanation should be something unique and interesting, too, I hope.
2014 Bon Dance Schedule on Kauai
By Kauai Buddhist Council
June 6 & 7               Kapaa Jodo Mission
June 13 & 14            West Kauai Hongwanji (Waimea)
June 20 & 21            Kapaa Hongwanji Mission
June 27 & 28            Waimea Higashi Hongwanji Mission
July 4 & 5                No Bon Dance
July 11 & 12             Kauai Soto Mission Zenshuji
July 18 & 19             Koloa Jodo Mission
July 25 & 26             West Kauai Hongwanji (Hanapepe)
August 1 & 2            Lihue Hongwanji Mission
August 8 & 9            Waimea Shingon Mission
*Most Bon Dance usually start around 7:30 p.m.