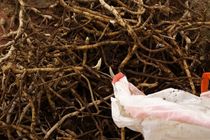 Last month, Mr. H gave me lots of roots of "Myoga Ginger" which is one of my favorite food.   (This is the second time I received Myoga roots from him.)  Myoga is usually used as a garnish for Japanese food such as miso soup, soba or somen noodles, or Tofu dishes, but I like myoga itself with soy sauce.  Not like ginger, we don't eat roots but flower bud, so we have to wait till summer for the harvest.
If possible, I wanted to plant all the roots but I had currently no place to plant, so I used some plastic containers as usual.   Yet, I couldn't plant maybe 1/3 of the roots I received.   Therefore they have been left outside in the plastic bag for one month.
Surprisingly, many of the roots  have been growing so well.  They put out shoots with little soil!!!  This really amazed me.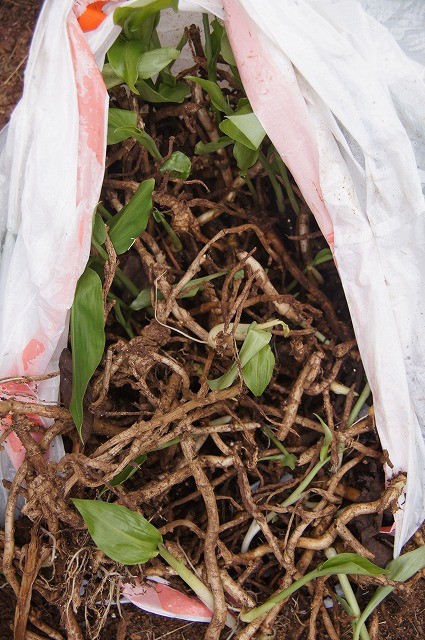 I imagined that this environment for them to survive was really harsh, they only received natural sun and water which was rain, but almost no soil.  But they have been growing well.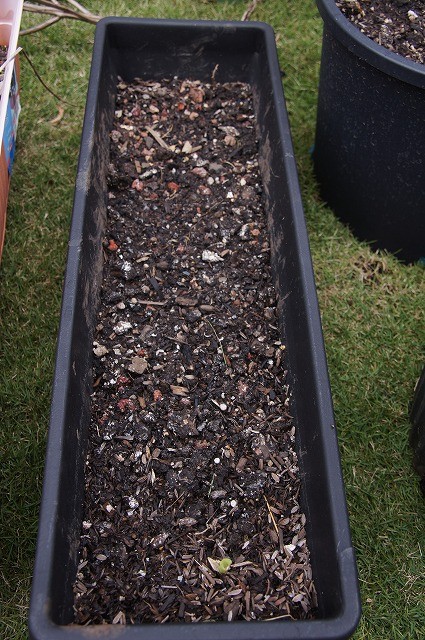 On the other hand, ginger roots in plastic containers have not made much progress.   They were supposed to have good soil, water, and sunlight, but as compared to the harsh condition, their growth looked really slow.
I thought this was very interesting natural fact and I have understood in this way.  
The roots in good conditions or environment do not grow faster and better because they don't need to make efforts.  
Because their environment is good,  they can take nutrition anytime.  They can be more relaxed.  As a result, they may become lazy.
On the other hand, the roots in severe conditions or bad environment do grow faster and better because they need to make every efforts in order to survive.   Because their environment is really bad, making efforts is the only way to survive. 
I thought of all the children of plantation workers here in Hawaii so many years ago.  They used to live in a small house with many children.  Most of them were poor.  They must had hard time, as compared to our modern age,  their environment of living was truly harsh. 
However, I think they did grow incrediblly good.  At the same time, they played important roles to make what we call present Hawaii.   In addition, their minds and bodies are so strong, that's why many of them could have a "long life."
I think everybody will agree with me about the importance of "the roots."   It is "the roots" or "the beginning part of the life" which could support future flowers or characters.
But what is truly important is, I realized, the environments or the conditions of the roots.  This made me think a lot about education and dicipline....