Recently, I received a phone call from The Garden Island(TGI) newspaper if I was interested in restarting a home delivery subscription. 
The last time when I was a subscriber of TGI paper was way back in 2003!  I had three reasons why I stopped having newspaper at that time.
1. Saving money....was the biggest reason why I stopped.  When I was assigned to Koloa Jodo, I was told, "This temple cannot afford to subscribe a newspaper."  But one of the members who was a treasurer at that time, personally gave me a gift subscription.  After he passed away, I paid for another year, but I realized I couldn't afford it. 
2. Saving paper....was another reason.  Because the paper was all written in English, I didn't read all articles.  As compared to the information I wanted, there were more than enough paper, including ad paper, coming to me every day.  
3. More internet......It was obvious that more and more articles were available on line. By checking their website, I was able to save both money and paper.
So for me, unsubscribing paper was reasonable.  That was over 10 years ago.
Now I have a different viewpoint.
The phone call actually made me realized that our temple was not the only one who was making efforts to survive.  Just like our membership is decreasing, I guessed, subscribers of the newspaper must be decreasing, too, because of more internet users.  
So I saw their hardship from their phone call.  At the same time, I felt sorry for the TGI paper, because they had published many nice articles for us during the past many years, but we didn't pay for more than 10 years.  I thought it was no fair.  This might mean they have supported our events by publishing articles, but we have not supported them. 
For a long time, I had thought it didn't matter whether I were a home delivery subscription or not.  I thought TGI newspaper was big enough and they had many subscribers and supports from many local companies and people.   I thought one person's subscription was nothing.  But I realized it was not true.  If many people think "one person is nothing,"  this could be eventually something.   We have to realize "one person" could become many "one person."    That's why they called "one person" like me.
So I asked myself, "which is important?"  "Do I want save money?" or "Do I want TGI newspaper to continue to publish articles?"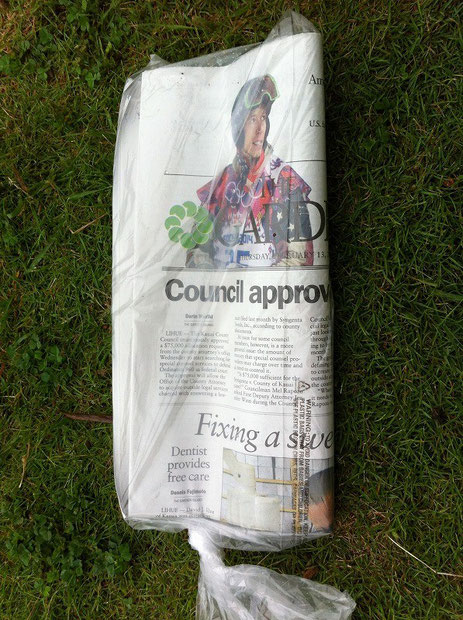 This is my answer.   
I want to thank and support TGI newspaper.  Especially,  I'd like Mr. Dennis Fujimoto to continue to write articles of Bon Dance, Toro Nagashi, and more possible events in the future.
Now I have to think how to save $9.95 a month!