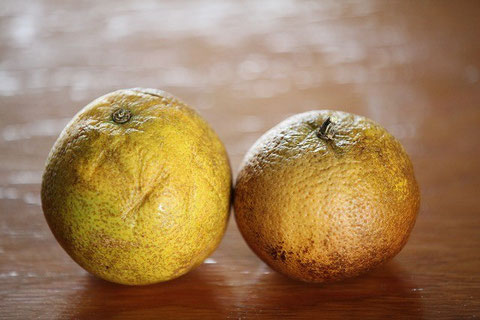 A week ago, I had some oranges from Rebecca an Mo.   People here in Hawaii call this orange as "Ugly Orange" because this doesn't look good.   However,  ugly orange is generally so juicy and sweet.   Therefore we don't mean it's ugly.   We recognize it as " Orange that has inner goodness."    This is just like saying, "A book shouldn't be judged by its cover."
According to interesting the blog I happened to find,  there are many sayings talking about virtues of inner beauty and I have enjoyed the following interesting sayings.
"The best and most beautiful things in the world cannot be seen, nor touched…but are felt in the heart."   ~ Helen Keller
"What lies behind you and what lies in front of you, pales in comparison to what lies inside of you."     ~ Ralph Waldo Emerson
 (What lies behind us and what lies before us are tiny matters compared to what lies within us.)
"Beauty is not in the face; beauty is a light in the heart."       ~ Kahlil Gibran
"Attractiveness and magnetism of man's personality is the result of his inner radiance."    ~ Yajur Veda
 "That which is striking and beautiful is not always good, but that which is good is always beautiful."     ~ Ninon de L'Enclos
"People are like stained-glass windows. They sparkle and shine when the sun is out, but when the darkness sets in, their true beauty is revealed only if there is a light from within."   ~ Elisabeth Kübler-Ross
"Beauty is how you feel inside and it reflects in you eyes. It is not something physical."    ~ Sophia Loren
"Beauty is only skin deep. I think what's really important is finding a balance of mind, body and spirit. Someone said to me not too long ago, "Until you're twenty, you have the face you are born with, and after that you have the face you deserve.", and I really loved that – the idea that you wear who you are on your face."      ~ Jennifer Lopez
 "True beauty could be discovered only by one who mentally complete the incomplete."    ~ Kakuzō Okakura
"It's a kind of radiance. People who possess a true inner beauty, their eyes are a little brighter, their skin a little more dewy. They vibrate at a difference frequency."    ~ Cameron Diaz
"The fountain of beauty is the heart and every generous thought illustrates the walls of your chamber."  ~ Francis Quarles
And the saying I did like was by Confucius (551–479 BC).
"Everything is beautiful, but not everyone sees it.万物皆有其美,唯慧眼能识之"          ~ Confucius
I think this saying is very close to the idea of Mahayana Buddhism.   It's called "Buddha Nature" which everybody has.  
先週のことになりますが、レベッカとモーからオレンジを沢山頂きました。
写真のオレンジは一見きれいではないので、地元の人は"アグリー・オレンジ(醜いオレンジ)"と呼んでいますが、実は中身はとっても甘くジューシー。
英語のことわざに、"本の良し悪しを外見のカバーだけで判断するな"という諺がありますように、何事も大事なのは、外見よりも中身!このオレンジはまさに中身があるからこそ、地元の人に愛されているのだと思います。
英語で、内面の美しさをインナー・ビューティーといいますが、内面の美しさを称えている有名人の言葉を集めて紹介しているブログをみつけましたので、いくつか引用させていただきました。 拙訳ですが、日本語訳を加えてみました。
"The best and most beautiful things in the world cannot be seen, nor touched…but are felt in the heart."   ~ Helen Keller
この世の中で最も素晴らしく美しいものは、目に見えるものでもなければ、手で触れられるものでもありません。心で感じるものなのです。
"What lies behind you and what lies in front of you, pales in comparison to what lies inside of you."     ~Ralph Waldo Emerson
あなたの背後にあるものや目の前にあるものなんて、(あなたの)内にあるものに比べたら色褪せます。
"Beauty is not in the face; beauty is a light in the heart."       ~Kahlil Gibran
美しさは顔の表面にはありません。美しさとは、心の中の光です。
 "That which is striking and beautiful is not always good, but that which is good is always beautiful."     ~Ninon de L'Enclos
人目をひく美しいものは、必ずしも良いとは限りませんが、良いものには必ず美しさがあります。
"Everything is beautiful, but not everyone sees it."          ~ Confucius
 すべてのものには美しさがあるが、すべての人がその美しさに気付くわけではない。~孔子
この孔子の言葉と言われるものは、英語サイトに氾濫していて、私もとても気にいりましたが、
出典はどこか不明です。また、原文と思われるもの(皆有其美,唯慧眼能识之)もありますが、これですと「慧眼(智慧の眼がある人)だけがすべての美しさを見ることができる」という意味になりますので、英訳がことなってきます。これは英文でかきましたが、
大乗仏教の考え方にすごく近いものがある思いました。
原典は、継続調査としたいと思います(苦笑)。