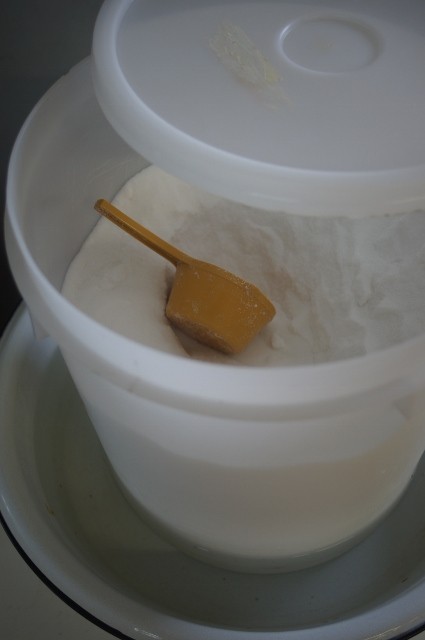 This is a picture of how we preserve sugar at our temple's kitchen.  I think this is one of the plantation styles but when I first saw this 14 years ago, I couldn't help but smiling....
What a simple way to keep bugs away!   
A plastic bucket is on the washbowl with water so that ants or gecko cannot get to the sugar bucket because they cannot swim. 
It was true.  Especially ants couldn't swim so that I never saw them by the bucket....till recently. 
Surprisingly, I saw some dead ants in the water.  It means they attempted to reach sugar but used up all their energies in the middle of water. 
But finally some of the ants were successful, which was of course not good news for us, but I was so impressed to see some ants were able to swim and reached the bucket.
I don't know exactly how many decades our sugar has been there at the kitchen.  We thought it was impossible for ants to reach the bucket.  But now it's not impossible.   Ants knew sugar was there and they must have desired to get there for many years from generations to generations.  Then they got it.
After seeing some ants by the bucket, I immediately imagined that our human being can surely reach Mars and further in the future because we know it's there.   
Needless to say, imagination is very important.  When we desire to be good, we use imagination to be good.   When we desire to have good products, we also use imagination to do so and we imagine they are happy.  On the contrary, when we are not happy or in the miserable condition, what will save us?
 I think that's imagination, too, we need.    And in order to get good imagination, we need a practice.   I imagine....from the view point of imagination, our teaching of Jodoshu will spread to the world.  I will write more about Imagination and teaching of Jodoshu.