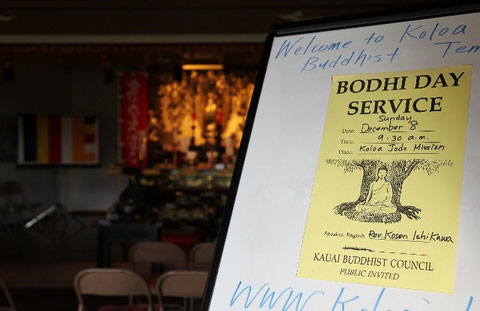 Today, I have an announcement.
Kauai Buddhist Council will observe a Bodhi Day Service at Koloa Jodo Mission on this coming Sunday, December 8 at 9:30 a.m.
According to the Japanese (/Chinese) Traditions, December 8 is believed to be the day when Siddhartha Gautauma (Shakyamuni) attained enlightenment at Bodh Gaya.  Enlightenment is called "Satori" or Bodai in Japanese or "Bodhi" in Sanskrit or Pali, thus we call this day a Bodhi Day.
This year, I will be a speaker and I will talk about "the golden teaching of Buddhism" which, I hope, worth coming to Koloa Jodo for listening to.
Happy Bodhi Day!
アロハ!
今日は、アナウンスメントがあります。
主にカウアイ島在住の皆さんへのお知らせになりますが、
今週の日曜日、12月8日午前9時半より
カウアイ仏教徒連盟主催「成道会」をコロア浄土院にて催します。
成道会とは、ゴータマ・シッダータ(お釈迦様)が
菩提樹の下で悟りを開かれた日を記念して行われる法要で、サンスクリット語で「悟り(または覚り)」をBodhi(ボディー)と呼ぶことから、英語圏ではBodhi Dayと呼んでいます。
当日の法要は午前9時半から約1時間ぐらいを予定しています。読経は、般若心経です。
仏連の先生方がそろいます。面白い法話もあります。軽食もあります。
日曜日はぜひコロア浄土院にいらしてください。