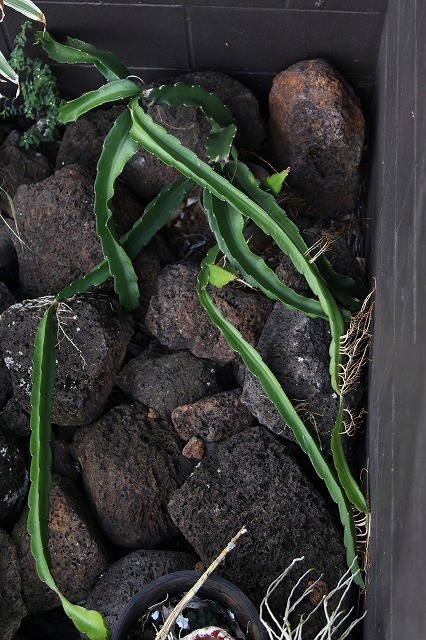 Sorry, it's, again, something about dragon fruit.
I have now some dragon fruit plants growing here at Koloa Jodo Mission.
Which do you think grows better? 
The one which was placed under full sun? or the one in a shade under the roof?
Interestingly, the plant which was placed in shade, looks growing much better. 
This is something like the plant is making more efforts to extend in order to receive light of the sun.  As a result, it has grown bigger.  Please look at the picture.  They are growing toward the Sunny place. 
Since I started to photograph the nature around myself, I've learned a lot from the nature.   I thought growing plant in the shade was telling the importance of "hungry spirits."
So if you are put in shade in your life, for example, in case you lost your job, if you were demoted, if you were discouraged...it's important to think these are not failures, but a beginning of another chance.   I believe failure or misfortune is a big chance of growing like the plant in shade.
 If failure didn't work for you,  how do you understand the situation?
I think it's good to think this way.........
One failure is not enough.   More failures are needed.  
 More failures, reminds me famous sayings of Thomas A. Edison (1847 – 1931).
"I have not failed. I've just found 10,000 ways that won't work."
 "I am not discouraged, because every wrong attempt discarded is another step forward"
またまた、ドラゴンフルーツの話です(苦笑)。
2008年に、はじめたドラゴンフルーツの栽培ですが、
現在は、鉢植えで徐々に株分けして育てています。
面白いことに、日当たりのよい場所に置いたドラゴンフルーツよりも、むしろ屋根の下、日陰に置いたドラゴンフルーツの方が成長がよいのです。
写真の苗は、前方、日があたる方向へと伸びているわけですが、
この様子は、あたかも日陰という不遇な状況下にあるドラゴンフルーツが、より一層奮起して、光を求めている、
といった印象を持ちました。
というのも、日当たりのよい場所であれば、植物は特に努力なしでも、太陽の光を受けられますが、
日蔭にある植物というのは、自らが求め努力することなくして、日は受けられません。
精一杯、必死に伸びている姿は、まるでハングリー・スピリッツを雄弁に物語っている!
身近な自然をカメラでおさめるようになって、気づいたことの一つです。
さて、人生にありがちな失望、失敗、挫折は、ハングリー精神でいえば、ある意味これはチャンスだと思います。仕事で左遷されたとき、あるいは職を失ったとき、あるは失恋したとき、現状をいかに肯定的に考え、奮起して努力できるか?で結果は180度異なってくると思います。
言葉は違いますが、世界の発明王トーマス・エジソンは「失敗」をポジティブにとらえた素晴らしい言葉を残してくれました。
「失敗なんかしちゃいない。うまくいかない方法を一万通り見つけただけだ」
「私は決して失望などしない。なぜなら、どんな失敗も新たな一歩となるからだ」
日蔭によく育つドラゴンフルーツを見て、エジソンを思い出した次第です。