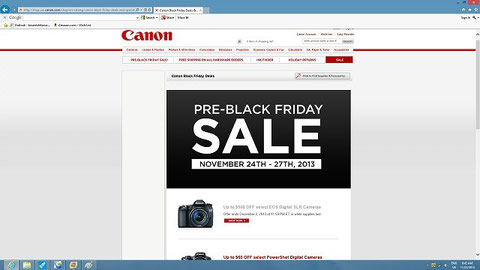 I'm ashamed to say I never failed to go to shopping on Black Friday.   At my first experiencing at the Black-Friday-Shopping, it was truly surprising to see so many many Kauai people at Walmart @Lihue, before 5:00 a.m.
Then, they started opening the store earlier and earlier and finally this year, many stores will start selling at 6:00 p.m. on Thursday!
To my surprise, K-mart opens at 6:00 a.m.? on the Thanksgiving Day.   It's no longer "Friday" but I think I will go shopping on that morning (lol.)
Joking aside, Pre-Black Friday for Canon Products started last night.   I'm not worker of Canon but I'd like to recommend...this is really a big deal, especially for refurbished ones.  I believe Canon online will also have a Black Friday Sale which offers the cheapest prices, but popular products will be sold out instantly.   I know this because I was one of the lucky guys to be able to buy the very discounted one on Black Friday a few years ago. 
Look at this price!   Canon 60D with EF18-200mm lens is $665!  The lens itself costs $559 and this means 60D body costs about $100.   Of course, they have now 70D and 60D is a little older but I love the price!
http://shop.usa.canon.com/shop/en/catalog/canon-black-friday-deals-and-specials
By the way, the company name "Canon" is not English name.  It was named after Buddhism. 
Their first camera was named "Kwanon" after Bodhisattva "Kannon" (Guanyin ).    The Kanji for Kannon 観音 literally means "to view/meditate(観) the sound(音)."    
So they wished....their camera "Kwanon" can capture even the sound just like Kannon Bodhisattva can do.   
Now the company "Canon" after "Kwanon" is so popular among the world.  I'm very proud of Canon and to be a Canon user.... not because this is a Japanese company but because it was named after Buddhism. 
It is my sincere wish...more and more compassion of Kannon can spread through the world.
早いもので、今年も間もなく、感謝祭です。感謝祭は、毎年11月第4週目の木曜日と決められアメリカの代表的な祝日です。
そしてその翌日がブラック・フライデー!(Black Friday)
このブラック・フライデーと呼ばれる日の由来ですが、毎年この金曜日にアメリカのほとんどすべての商店が、大セールを行うことから(売上がよい→黒字となる)黒字の金曜日という意味で呼ばれるようになったそうです。
 お恥ずかしい話ながら、実は、わたくし、、、毎年、このブラック・フライデーに欠かさずショッピングに出かけています。
もともと金曜日の早朝に始まっていたこのセールは、年年、他店との商戦の激しさを増して、去年は、感謝祭当日木曜日、午後8時スタート!で、今年は夕方の6時からセールを行うそうです。驚いたことに、カウアイにもありますが、Kマートのセール開始時刻がなんと祝日の朝6時から!
もはや「フライデー」とは呼べないと思いますが、多分、私は朝からショッピングに行くと思います(苦笑)。
さて、お得な情報になるかと思いますが、アメリカのキャノン・オンラインは、昨日からプレ・ブラック・フライデー・セールとして大セールを行っています。
私のおすすめは、一年の保証期間を有するRefurbished商品です。
 Refurbishedとは、商品の返品が日常茶飯事に行われるアメリカで、主に使われる言葉になりますが、顧客が返品した商品をメーカーが点検して再び売ることをいいます。
一言でいいますと、「メーカーが点検した新中古」になろうかと思います。
 つまり、(しつこい?)、一旦市場に出たという点では中古になりますが、保証期間に返品された商品なので、ものとしてはまだ新しい。
その魅力はなんといっても値段の安さ!メーカーがきちんと点検したうえで、1年間の保証まである。
キャノンの商品で、これほど安くなるセールはこの時期以外にはないのです。
ちなみに、「キャノン」という社名、、。アメリカ人は英語が語源だと思っていますが、実は仏教の「観音」菩薩にあります。音まで撮れるようなカメラを!という願いが込められたカメラの「カンノン(KWANON)」から「キャノン(CANON)」に社名を変更。その後、キャノンは、「世界のキャノン」になったことは周知のごとくです。
私は、日本人として、日本の企業を誇りに思う以上に、仏教徒として、キャノンの由来が「観音」様にあることをありがたく、また誇りに思っております。