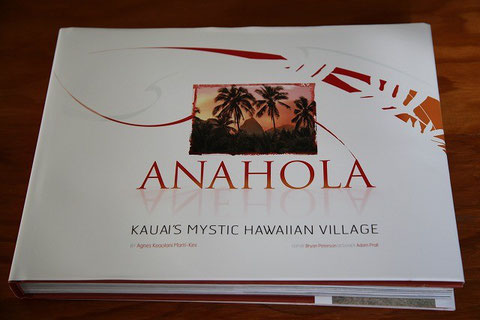 It's my great honor to be an interpreter again for Kumu Leina'ala and her workshop's participants from Japan.  Kumu took us to the National Tropical Botanical Garden, Laka Heiau, and Anahola where we had a chance to meet and listen to Auntie Aggie who was the author of "Anahola."
For me and maybe many of Kauaian, Anahola was a passing point going to North, however we knew Anahola was something to visit……after hearing her many stories from the book "Anahola."
According to Auntie Aggie, Dalai Lama XIV is interested in visiting Kauai because he knows Kauai has two interesting places.  They are Polihale and Anahola.  Polihale in Hawaiian means "The House of underworld (po)" where souls of the dead depart for the Po.  
On the other hand, the place "Anahola" means "a measure of time."  Auntie said, Anahola is a very peaceful slow town where time has "stood still." 
Then, ""Why Anahola?  When asked, Dalai Lama is said to have answered;
"We know Anahola is a portal where the souls or spirits enter this world, and Polihale is the souls or spirits exit this world."  "
Wikipedia says Anahola means "deadly winds."  However I knew there were some more opinions about its meaning and Auntie pointed out the importance of "Kanoa" or "hidden meaning"
It was very interesting to know Anahola was originally Anehola.  And the hidden meaning of Anehola is "the time/hour of the breath of life."
This was just like Dalai Lama mentioned that Anahola is a place where souls enter the world…..So interesting!
I want to thank Kumu who bought me this wonderful book.  I'm very happy to see our friends in the book.