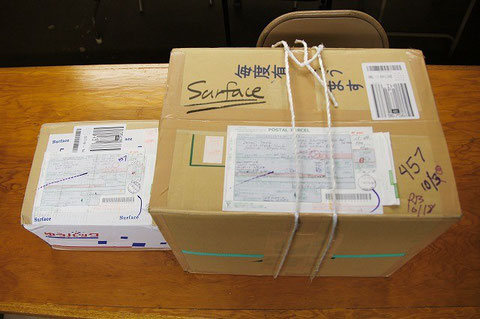 Packages by surface mail have arrived here since I sent them from Japan on August 17th.  It took about 50 days.  They were mostly books and temple supplies I bought in Japan.  I felt these were like surprise gifts from the past.. because I forgot what I packed exactly.  I was very glad to confirm...oh I had this book, that book, magazines and so on.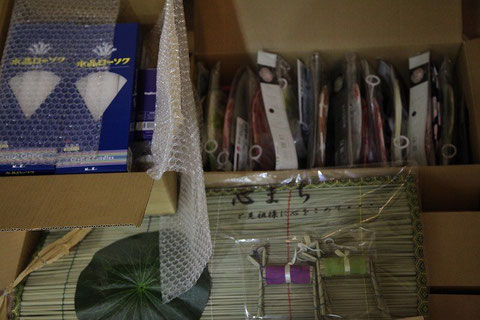 These are for O-Bon for next year!  This means I have already started preparation of O-Bon next year.  I cannot tell you right now but Toro Nagashi next year will be something different.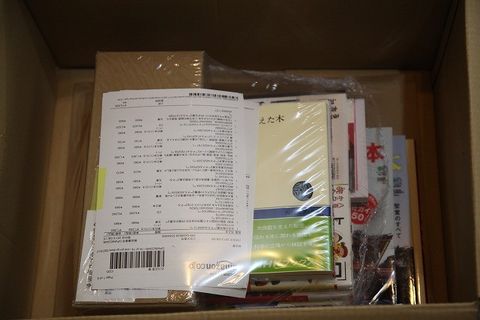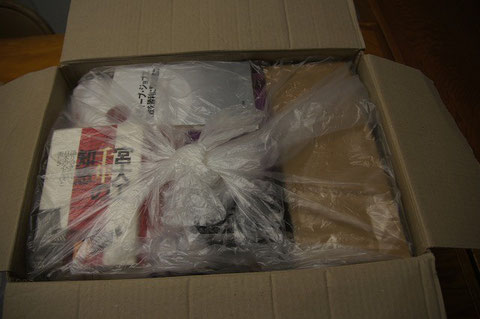 Before sending, I made it sure to cover books by plastic bags because it might get wet while being on the boat.   I knew they were just fine and I thought surface mail was a good deal.
As you may know, there are four ways to send packages from the Post Office in Japan to here in Hawaii.
1. EMS (Express Mail Service)   2-3 days.
This is the fastest and expensive, but it takes only a few days.
5 Kgs  8,200 yen      10 kgs 14,000 yen    20 kgs 25,000 yen
重量は30キロまで。長さ1.5メートル、長さと横周の合計2.75メートル
2. Air Mail   3- 6 days
5 Kgs  10,150 yen     10 Kgs 17,650 yen    20 Kgs 27,150yen
航空便
重量は30キロまで。長さ1.05メートル、長さと横周の合計2メートル
3. SAL (Surface Air Lifted)  2-3 weeks
5 Kgs  7,300 yen       10 Kgs 12,550 yen    20 Kgs 19,550 yen
 SAL便
重量は30キロまで。長さ1.05メートル、長さと横周の合計2メートル
4. Surface Mail   2 months
5 Kgs  4,000 yen       10 Kgs 6,750 yen      20 Kgs 10,250 yen
船便
重量は30キロまで。長さ1.05メートル、長さと横周の合計2メートル