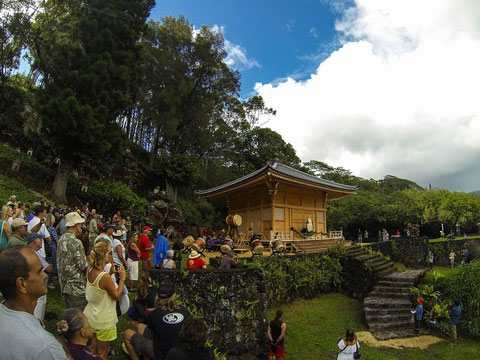 Congratulations to Mrs. Lynn Muramoto, members and friends of Lawai International Center.
After constant efforts beyond description by President Lynn and many supporters for 23 years, now everyone can see their "energy" at Lawai. 
I was truly honored for being invited to the ceremony to do the blessing, but it was me, too, who have received blessings from Lawai.   I'm really thankful.  There was an uncle who kindly helped carrying my table and box while it was rainning.  There were some men who were attending to the parking with their clothes being covered by mud.  There was a lady who gave me a cup of water and another lady gave me lots of goodies, including beautiful leis.  All volunteeers were working so hard toward their assignments and I happened to know many of them couldn't see the entire ceremony.  But at the same time, I knew Hall of Compassion is now standing because of their invisible efforts and dedications.
Dedication of Hall of Compassion is indeed a visualization of their "Aloha"  which will be expressed to you if you visit there.
The center is open the second and the last Sunday of every month with tours at 10:00am, 12:00pm and 2:00pm, or by appointment.  For more information, please visit Lawai International Center.    
By the way, this is one of the three places on Kauai that I would like to recommend you to visit;
1. Lawai International Center
2. Hindu Temple
3. Koloa Jodo Mission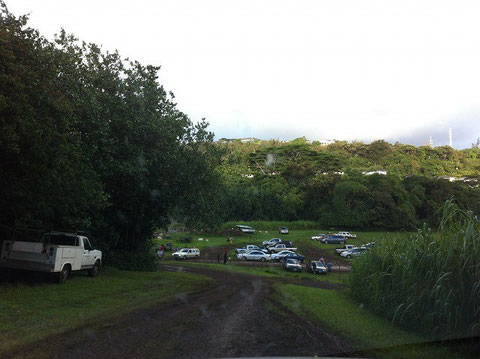 I forgot to start recording a video after setting a tripod but a miracle happened! 
Time lapse photos were taken while I didn't know.  I wonder who kindly took them.  Me?  Thank you very much!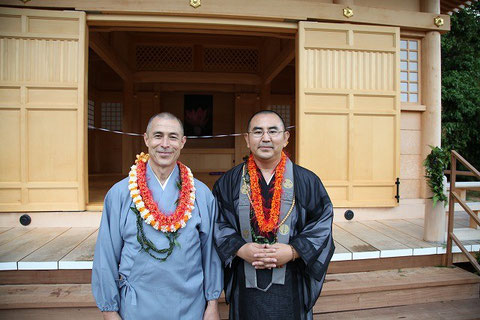 It was great seeing Master Lee!  The following video is a part of his concert here at Koloa Jodo Mission in May, 2002!  Yes, time sure flies!!!